Falklands' giant mural paying tribute to the Royal Navy painted by school in Hampshire
Monday, November 17th 2014 - 06:23 UTC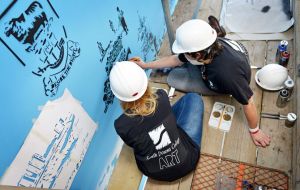 Students from a Hampshire college in the UK have completed a giant mural paying tribute to the Royal Navy's role in the Falklands Conflict. Twenty students from South Downs College at Waterlooville spent a week completing the 12ft square artwork on a wall in the Warrant Officers and Senior Rates Mess at HMS Excellent in Portsmouth.
The artwork, set against a map of the Falkland Islands, consists of a timeline of events in 1982 with students given sections to produce stencils from photographs supplied by the Royal Navy.
The stencils are then spray-painted onto the wall, with some areas then receiving a color wash.
"The finished product is beyond mine and my committee and mess members' wildest imagination – it is a truly inspirational piece of art," said Mess President and Base Warrant Officer WO1 Simon Hayman.
"The attention to detail and techniques they have used is beyond description. You have to see it to take in the detail and the enormity of the mural. I am honored to have it in my mess."
Art lecturer Mark Kellett, who produced some of the stencils himself, said: "We've never done anything this big or for an organisation so important.
"I thought we would do it as stencils as the majority of work could take place at college. I ended up with a huge list of people wanting to take part."
Second year student Rubi Hussey, 17, said: "This has been a really exciting opportunity and a great experience to create this tribute.
"This experience has opened our creativity and has allowed us to explore different ideas and mediums. The lecturers and the Royal Navy have given us the inspiration we need to make this an amazing piece of work. We are all really proud of what we've achieved."
South Downs College Principal Mrs Lyn Surgeon said: "I am delighted that our students took part in this inspirational project. I am always proud of the talent and commitment of our students and staff. This is an exceptional achievement."
Falklands veteran Fleet Commander Vice Admiral Philip Jones will officially unveil the artwork at the end of the month.(RN)