Ushuaia gateway to Antarctica: of 295 cruise calls this season 60% will travel south
Tuesday, November 18th 2014 - 07:18 UTC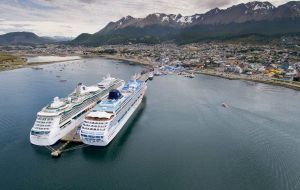 Ushuaia, the world's southern most city and gateway to Antarctica cruises expects this 2014/2015 season an estimated forty vessels and 295 calls, according to Tierra del Fuego province port authorities. As usual the first vessel to arrive was Chilean flagged Stella Australis with 210 passengers, at the end of September, which is also expected to close the season in April next year.
"We don't expect much changes compared to previous seasons. For Tierra del Fuego the cruise industry is most important since it represents approximately 50% of international tourism", said Marcelo Echazú, president of the Instituto Fueguino de Turismo. (Tierra del Fuego Tourism Institute).-
Among the outstanding vessels scheduled this season, Echazú mentioned Golden Princess with 2.600 passengers; Infinity, pax 2.449; Zaandam, 1.805 pax; Ocean Dream, 1.350 pax and Marina with 1.250.
During the previous season, September 2013/April 2014, Ushuaia received a total of 40 vessels and 296 calls, which was 10.8% over the 2012/2013 season. Of this total 60% visited Antarctica and of total foreign visitors, 43% arrived in cruise vessels.
In numbers this meant 90.419 passengers and 44.721 went on to visit Antarctica, according to Tierra del Fuego province tourism officials. The first vessel to travel south in November 2013 was Sea Adventurer and the last on 2 April, Ushuaia.
Among the big vessels calling in Ushuaia last season includes Golden Princess (2.600 pax); Queen Victoria (Cunard Line, 2.100 pax); Celebrity Infinity (1.950 pax); MS Zaandam (1.400 pax) and MS Marina (1.250).
Echazú said that Ushuaia has several challenges to keep ahead as the main cruise port in the extreme south of the continent, such as improving conditions for arriving passengers, but he is confident that "the joint effort from the public and private sectors will continue and spear the promotion campaign both at national and international level".
"We also need a more fluid relation with the market strategies adopted by cruise companies, be well aware of the extraordinary size of the new vessels and above all Ushuaia must adapt to this new scenario", concluded Echazú.