Bird flu highly contagious H5N8 strain in England, Netherlands and Germany
Wednesday, November 19th 2014 - 04:18 UTC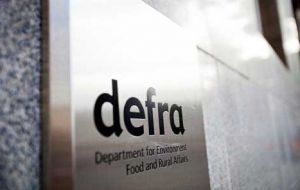 Bird flu on a duck farm in northern England is the highly contagious H5N8 strain, the same form of the virus already discovered in Germany and the Netherlands, Britain's farm ministry confirmed on Tuesday.
The Department for Environment, Food and Rural Affairs (Defra) said that the risk to humans was minimal, and that a cull of all 6,000 ducks on the farm in east Yorkshire should be completed later in the day.
"The advice from the Chief Medical Officer and Public Health England remains that the risk to public health is very low," said a Defra spokeswoman.
"The Food Standards Agency have said there is no food safety risk for consumers."
Officials said on Monday that a 10-km restriction zone had been put in place around the duck farm.
In Sweden, the board of agriculture said poultry should be kept indoors as a preventative measure as it was possible that the current bird flu had been spread by wild birds. The viral disease infects wild water fowl such as ducks, geese and swans which can spread it to domestic poultry.
Britain has not seen a dangerous strain of avian flu since 2008, when a case of the deadly H5N1 strain was last reported in birds.
The H5N8 strain has never been detected in humans, but it led to the destruction of millions of farm birds in Asia, mainly South Korea, after an outbreak earlier this year.
Other bird populations in Europe were likely to be infected with bird flu and a few people might also be susceptible, although the virus is highly unlikely to spread in the human population, the World Health Organization said on Tuesday.
German discount chain Aldi South warned that it expected egg shortages due to a three-day ban on shipments of all poultry products from the Netherlands, the world's largest egg exporter.
Dutch authorities said on Sunday that they had identified the H5N8 strain at a poultry farm in the central Netherlands, more than a week after the first reported case in Europe at a German turkey farm.