Cristina Fernandez held a 'short list' cabinet meeting on Tuesday
Wednesday, November 19th 2014 - 04:32 UTC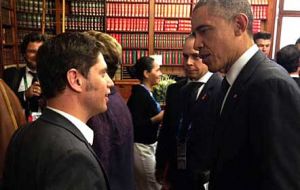 Despite the ten days of convalescence ordered by her doctors, Argentine President Cristina Fernández continued with an official schedule in Olivos and met on Tuesday with key members of her cabinet.
The head of state received Cabinet Chief Jorge Capitanich and Economy minister Axel Kicillof, who returned on Monday from the G-20 summit celebrated in Brisbane, Australia.
Federal Planning Minister Julio de Vido, Legal and Technical Secretary Carlos Zannini and head of YPF state-run oil company Miguel Galuccio also participated in a Tuesday afternoon of meetings.
The president was ordered a 10-day rest as she gradually returns to full time activities, following a week-long hospitalization in the Buenos Aires Otamendi clinic for sigmoiditis, an infection of the colon.
However according to the Official Gazette, a cardiologist was added to the Presidential Medical Unit on September first before President Cristina Fernández was hospitalized this last time.
Alberto Babil Marani was named as Assistant MD for the Presidential Medical Unit, and will perceive a salary equivalent to the Level A, Grade 3 category of the public remunerations system, the gazette states.
"The individual has the expertise required and is an ideal candidate to fill the position, which was vacant," it adds.
Minister Kicillof who replaced Cristina Fernandez at the G20 summit revealed that in Brisbane practically all leaders present asked about the president's health condition, including President Barack Obama.
"He approached me and asked me about the President's health condition. I said that as it is of public knowledge, she is doing perfectly well", said Kicillof who added that they also addressed other current issues but suggested that "it's President Obama who should disclose the nature of the conversation".
"I felt (German Chancellor) Angela Merkel showed great love for Cristina, and so did Russia's (Vladimir) Putin", said Kicillof who also mentioned French leader Francois Hollande, Australia's Tony Abbott and Spain's Mariano Rajoy.
"They all sent best wishes to the president, to the Argentine people and I told them that although the president had recovered it was not advisable to make such a long trip as flying to Australia".