Falklands contracts strategic review of Telecommunications provision
Wednesday, November 19th 2014 - 07:44 UTC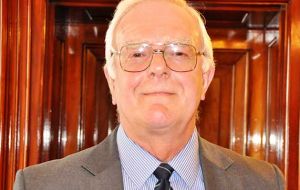 The Falkland Islands Government have announced that Cartesian Ltd have recently been appointed to carry out a strategic review of Telecommunications Provision in the Falklands Islands. Cartesian will be starting work on the review immediately, with the first draft report due on 24th December.
A team from Cartesian will be visiting the Islands from 1st December 2014 and are hoping to meet with as many stakeholders as possible during their time here.
MLA Roger Edwards, Portfolio Holder for Regulation, has welcomed the appointment: 'I am pleased Cartesian Ltd have won this contract, and I look forward to their advice and professional input as the telecommunications review takes shape. This is an important piece of work for the Falkland Islands.'
As part of the initial work on the review, Cartesian are hoping to hold conference calls with key stakeholders in the Islands and therefore FIG will shortly be contacting various organizations with a view to arranging suitable times for Cartesian to consult them.