Argentina's economy weakens in September, according to official stats
Saturday, November 22nd 2014 - 09:13 UTC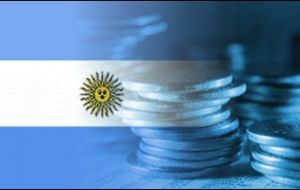 Argentina's economy weakened slightly in September as high inflation and declining purchasing power curbed sales and industrial production. A proxy for economic growth published by the government fell 0.2% on the year, the national statistics agency Indec reported Friday.
Growth was up 0.2% from August. The indicator Emae, includes most of the components used to calculate quarterly gross domestic product. But private-sector economists say the government's data are far too rosy.
The economy actually shrank by 4.2% in September, according to a closely watched estimate by Orlando J Ferreres & Asociados, or OJF, a consulting firm. OJF has also reported that the economy contracted 3.9% in October.
"Over the first 10 months of the year, the overall level of economic activity maintains a clearly negative trend," OJF said earlier this week. "Two of the most important sectors, which are the automotive industry and retail, continue to show significant declines on the year."
Agriculture output tends to decline in the third quarter for seasonal reasons as corn and soy sales fade.
Economists expect the economy to shrink by anywhere from 1% to more than 3% this year. So far this year, the economy has contracted 2%, according to OJF.
Meanwhile, inflation is thought to reach around 40% and appears likely to remain high well into 2015. That means Argentina's economy could remain in a state of stagflation for another year, economists say.
While wages have been rising for many workers, in most cases the increases haven't been enough to compensate for inflation. That has pushed people's purchasing power lower even as prices rise. As a result, people have been cutting back on spending, particularly on big-ticket items such as cars and home appliances.
The economy has been mired in recession amid double-digit inflation, a currency devaluation in January and weak demand from neighboring Brazil, analysts say. A shortage of U.S dollars has also made it much harder for companies to import goods and equipment used by local manufacturers. That has further crimped production.