IMF monitoring impact of Venezuela's economic stress for Caribbean islands
Monday, November 24th 2014 - 07:44 UTC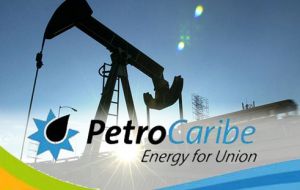 The International Monetary Fund (IMF) says it is monitoring the potential impact any changes to PetroCaribe, Venezuela's oil alliance with several Caribbean islands will have on regional economies.
Analysts say the initiative, which allows countries to pay for part of their oil import from Caracas over a 20-year period at low interest rates, will have to be modified or discontinued amidst a worsening economic situation in Venezuela.
Several Caribbean Community (CARICOM) countries including Antigua and Barbuda, The Bahamas, Jamaica, Belize, St. Kitts and Nevis, Grenada, St. Vincent and the Grenadines (SVG), Guyana, and Suriname are members of PetroCaribe.
St. Vincent and the Grenadines Prime Minister Dr. Ralph Gonsalves said that Caracas has invited PetroCaribe member countries to a meeting about "reaffirmation" of the commitment to the initiative, the brainchild of the former Venezuelan President, the late Hugo Chavez.
IMF advisor, Western Hemisphere, Elie Canetti, told reporters that the IMF's main concern "is that we know Venezuela is going through increasing financial stress, and oil prices have dropped from around US120 dollars a barrel to mid 70s a barrel and Venezuela is hugely dependent on selling oils.
"So, we are mindful and concerned about the feasibility of PetroCaribe continuing, certainly at the level it has been, and we are looking into what will be the impact on Caribbean countries," Cantelli said.
He said the IMF has been monitoring the situation for quite some time, "but the urgency in trying to understand that is much higher now because of the financial situation in Venezuela does seem to be deteriorating much more quickly now with the drop in oil prices".
"So if PetroCaribe is, in the extreme, wound down, or if PetroCaribe financing benefits become less generous, it is something that will have to be taken in account in the fiscal strategy," he said, adding that the Washington-based financial institution is trying to understand what exactly PetroCaribe money was used to pay for in St. Vincent and the Grenadines.