Largest crane ship capable of lifting oil rigs delivered in Korea
Monday, November 24th 2014 - 10:26 UTC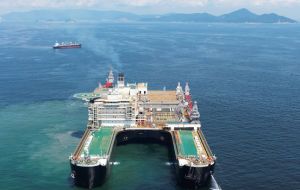 The world's largest crane ship, which is capable of lifting oil rigs, has set sail from its shipyard in South Korea for Rotterdam Port in the Netherlands. The Pieter Schelte, which left South Korea last week is due to arrive at the port for completion in December.
The vessel is 124m wide and 382m long - as long as the Empire State Building is high. Designed to assist offshore oil rigs, it reportedly cost around 2.97bn dollars to build.
The Pieter Schelte was commissioned by Swiss company Allseas, which specializes in offshore pipeline installation and subsea construction. It has been billed as the biggest ship in the world - though the title is contested.
Unlike oil tankers or container vessels, crane ships specialize in lifting heavy loads and often assist in offshore construction.
In partnership with the Port of Rotterdam, the ship will be taken to Maasvlakte 2, an extension of the port, where a special pit has been drained to house the vessel.
After its completion, it will sail to the South Stream project in the Black Sea to lay pipelines there. The ship will be used to install and remove offshore oil and gas rigs as well as to lay pipes.
Allseas says the Pieter Schelte, which was built by Daewoo Heavy Industries in South Korea, will be able to lift loads of 48,000 tons. However, the company has said it will build an even bigger vessel.
Allseas says it is planning a sister ship measuring 400m long and 160m wide.
Capable of lifting 77,000 tons, this vessel would be able to work on the world's largest oil rigs and should be in operation by 2020.
The title of world's biggest ship is difficult to define, but the largest floating vessel currently in operation is the Shell Prelude, a 488m long platform for liquefied natural gas anchored in a South Korean port.
However the vessel is unable to propel itself, leading to questions as to whether it can actually be classified as a "ship". The world's longest moving vessel is the Maersk Triple E class, a family of container ships each of which is 400m in length.