Israel approves bill defining the country as the "nation-state" of Jewish people
Tuesday, November 25th 2014 - 07:32 UTC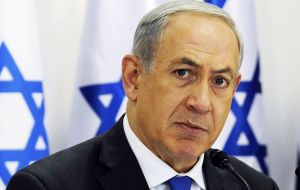 In a move likely to further inflame tensions with Israel's Arab citizens, a divided Israeli Cabinet approved a bill to legally define the country as the nation-state of the Jewish people.
The decision, which set off a stormy debate that could bring down Prime Minister Benjamin Netanyahu's fragile coalition government, followed weeks of deadly Arab-Jewish violence and was denounced by critics as damaging to the country's democratic character and poorly timed at such a combustible moment.
It now heads toward a full parliamentary vote on Wednesday, where the legislation will either fall or stand. Right-wing supporters of the initiative, including Netanyahu, pledged such a law would guarantee full equality for all of Israel's citizens.
Israel has always defined itself as the "Jewish state" — a term that was contained in the country's declaration of independence in 1948. The new law seeks to codify that status as a "Basic Law," Israel's de facto constitution. While many critics derided the measure as unnecessary, Netanyahu told his Cabinet the bill is a response to Israel's Arab critics both inside and outside the country who question its right to exist.
The PM has long demanded that the Palestinians recognize Israel as the Jewish homeland as a condition of any peace deal. Both the Palestinians and their Arab Israeli brethren say such acceptance would harm the rights of Israel's more than 1.5 million Arab citizens.
The bill calls not only for recognizing Israel's Jewish character but for institutionalizing Jewish law as an inspiration for legislation and dropping Arabic as an official language, marking it as deserving "special status." Netanyahu insisted that Israel would be both Jewish and democratic.
"There are those who would like the democratic to prevail over the Jewish and there are those who would like the Jewish to prevail over the democratic," he said. "And in the principles of the law that I will submit today both of these values are equal and both must be considered to the same degree."