Mujica apologizes to Mexico and gives full support to the fight against drugs
Tuesday, November 25th 2014 - 07:21 UTC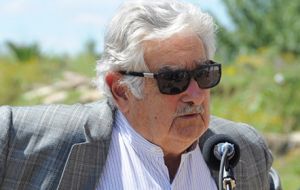 Mexico and Uruguay declared on Monday an end to a brief diplomatic spat over the Uruguayan president's description of Mexico as a "kind of failed state." Mexico's government protested the remarks by Uruguayan President Jose Mujica over the weekend and said it would summon the country's ambassador for an explanation.
But Mujica himself issued a statement taking back his words, which he had made to Foreign Affairs magazine in reference to the disappearance, and presumed massacre, of 43 college students by a police-backed drug gang in southern Mexico.
The foreign ministers of both countries said on Monday the matter was resolved.
"It's absolutely settled," Mexican Foreign Minister Jose Antonio Meade said during a trip to Chile, noting that Mujica had clarified his remarks. "The dialogue with Uruguay is a brotherly dialogue."
Uruguayan Foreign Minister Luis Almagro said that the "episode has been overcome"
Mujica said that "we feel solidarity with Mexico but also a commitment to the fight, and as much as we can, we are at the disposal of its legitimate government to support it in all that can make this difficult time easier".
The Uruguayan leader also spoke about "the deep bonds of friendship that have historically united and that unites Uruguay, in the present, with Mexico, its institutions and its people" because of which "the tragedy affects us all".
"None of us can feel completely detached from the tragedies that are affecting the Mexicans and other Central American countries," he said.
"The horrifying news that reaches us about the consequences of drug trafficking in countries such as Guatemala, Honduras and now Mexico is screaming out a real lesson of pain that may well be showing our own dangerous futures," he warned.
Mujica explained that this is a result of "nations being bombarded by a business approach without scruples in which one is willing to do anything, whose slogan is silver and lead, and that manages substantial economic resources."
Finally the Uruguayan president warned that "Central America is paying the full cost of being a clandestine bridge towards the great market that not only consumes but also reaps the benefit of the bulk of this trade."