US Securities & Exchange Commission investigating Petrobras corruption scandal
Wednesday, November 26th 2014 - 06:39 UTC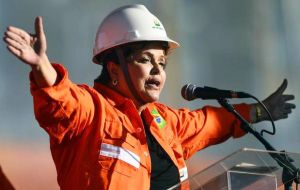 Brazil's state-run oil firm Petrobras said on Monday it had received a subpoena from the US Securities and Exchange Commission asking for documents relating to an investigation it is pursuing. The SEC investigation is the latest in a multi-layered probe into Petrobras which is spreading beyond Brazil's borders.
Petrobras said the requested material would be sent to the SEC and it was working with law firms Trench, Rossi and Watanabe, and Gibson, Dunn & Crutcher, which have already been hired to lead an internal investigation into allegations of corruption at the company.
Petrobras did not provide details as to what documents the SEC had requested. The company is also under investigation by the US Department of Justice, according to a person familiar with the matter who was not authorized to speak publicly about the matter.
The oil producer's activities are being probed by a DOJ unit that looks into potential violations of the US Foreign Corrupt Practices Act, the person said.
The US investigation, conducted by both the SEC and the DOJ, is "broad" in nature and has been ongoing since at least the start of 2014, the person said.
In Brazil federal police have already arrested two former senior Petrobras executives in a wide money-laundering and bribery probe, while an internal investigation at the firm has led to one employee being fired and 15 others fingered for corruption.
Prosecutors allege Petrobras systematically overpaid for work by contractors and that the excess funds were then illegally funneled to political parties, including that of President Dilma Rousseff.
The scandal has put pressure on Rousseff after her narrow re-election last month, particularly because she was chairwoman of the Petrobras board from 2003 to 2010, when much of the alleged corruption took place.
Petrobras said it would cooperate with US authorities to the same extent as it has with Brazilian authorities.
Meanwhile, Adarico Negromonte — one of the 25 people being investigated by authorities within Operation Car Wash — gave himself in in the city of Curitiba. Negromonte had been on the run since November 14, when his arrest was ordered by the judge in charge of the case.
He is the brother of Cities Minister Mário Negromonte and has been accused of transporting the money from the office of money-launderer Alberto Yousseff in Sao Paulo to officials and political parties allegedly involved in the Petrobras corruption scheme.
The suspect arrived at the police station in Curitiba accompanied by his lawyer Joyce Rosen.
Another suspect, an executive at construction company Galvão Engenharia, told investigators that he was forced to pay more than 8.3 million Reais between 2012 and 2014 to secure Petrobras contracts for his company.
Erton Medeiros de Fonseca said that the last payment was made in April this year, a month after Operation Car Wash was uncovered by Brazilian media. Investigators believe that Renato Duque, a former director of Petrobras, was one of the main beneficiaries of the kickbacks scheme.