Gibraltar MEP leader of UK Tories delegation to the European Parliament
Thursday, November 27th 2014 - 06:46 UTC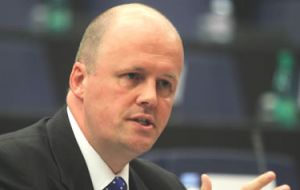 Gibraltar MEP Ashley Fox was elected this week leader of the British Conservative delegation in the European Parliament, reports the Gibraltar Chronicle.
Mr Fox was elected in a ballot of his colleagues after former delegation leader Syed Kamall stood down to concentrate on his role as leader of the European Conservatives and Reformists group - now the third-biggest grouping in the European Parliament.
A staunch supporter of Gibraltar's British sovereignty, Mr Fox has been MEP for the South West and Gibraltar since 2009.
Mr Fox has applied constant pressure to both the EU Commission and the UK Foreign Office for a robust response to Spanish incursions into British waters and excessive border controls.
Following his election, Mr Fox said: "I feel truly honored to have been chosen by my colleagues to lead them. My priority will be to drive forward the Prime Minister's reform agenda, so that Britain can renegotiate its relationship with the EU. Then a Conservative government will put that new deal to the British people in a referendum.
"Europe has to change and its people are crying out for that change. I will work to form alliances across nationalities and across political divisions to ensure that reform is central to all we do.
"I will ensure that Conservative MEPs continue to bear down on EU waste and miss-spending and keep up pressure to cut the EU's cost to taxpayers. We will fight to slash the over-regulation that comes out of Brussels and hamstrings business - especially the small enterprises that should be the lifeblood of economic revival.
"Of course, I shall not forget my duty to promote the interests of the people of the South West and to defend Gibraltar and its people from Spanish aggression."