Mujica enjoys 65% support and 47% of Uruguayans feel good about the economy
Friday, November 28th 2014 - 06:34 UTC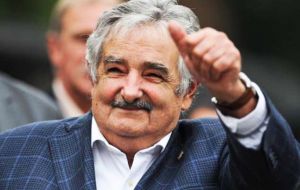 Uruguayan president Jose Mujica who next Monday begins the last three months of his five-year mandate enjoys a 65% public opinion support according to the latest poll from Mori released this week. Negative opinion only represents 17% while 18% did not say whether they approved or disapproved of the popular leader's performance.
A second Mori poll showed a clear majority of Uruguayans are satisfied with the economic situation and prospects.
The first Mori poll shows that Mujica has an overwhelming support from the Broad Front ruling coalition, 94%, which is a record for his administration, but it is also considerable among opposition parties' voters, since 34% approved of his presidential performance.
The opinion poll single question was, "Do you approve or disapprove the way that Jose Mujica is performing as President?" Interviews were done between 18 to 25 November with an error margin of plus/minus 3.7%
The second opinion poll from Mori helps to understand, in part, support for Mujica and this is related directly to Uruguay's economic situation and prospects.
In effect a November opinion poll showed that the Uruguayan economy perceptions are 'very good' for 4% of interviews; 'good' for 43%; 'nor good or bad', 39%; 11% 'bad' and 3%, 'very bad'. In other words 47% are more than satisfied with the economy's prospects and another 39% can be rated as acceptable.
The report on the poll describes the situation as 'exceptional', since this has not been the case for Uruguay, and historic data indicates that only beginning in 2009 (following several years of sustained growth), did the positive replies were more that the negative ones, and this perception has remained relatively stable since then.
All this despite the fact that economic indicators for 2014, and further on, point out that activity in Uruguay is slowing down and this tendency could continue, depending on external conditions.
But Mori in the report also indicates that the so called 'objective' indicators of the economy (such as GDP, employment, fiscal deficit, etc) do not necessarily reflect public opinion mood, which is ruled by the so called 'subjective' perceptions, and refers as to how people feel and are coping with the current situation.
"Sometimes these two situations, 'objective and subjective', coincide, and at other times not so much", argues the report. It also points out that "perceptions regarding the economic situation are one of the several elements people take into account before casting their vote".
The Mori poll one question was: "How do you regard the current economic situation? Very good, good, acceptable, bad or very bad. The error margin is estimated at plus/minus 3.7%.