World health experts meet to discuss the high levels of antibiotic resistance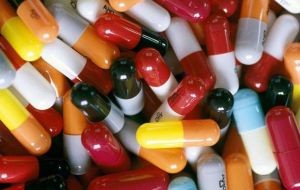 Next week, 2-3 December, senior government representatives from more than 30 countries are expected to agree on a pilot system for collecting data on antibiotic resistance—a major step forward in addressing this threat to global public health.
High levels of antibiotic resistance are reported worldwide, meaning that bacteria are changing so antibiotics no longer work in people who need them to treat infections.
This is jeopardizing our ability to treat common problems such as urinary tract infections, bloodstream infections, pneumonia and gonorrhea. Antibiotic resistance causes people to be sick for longer and increases their risk of death.
Currently, there are major gaps in global systems to track and monitor antibiotic resistance.
The meeting on "surveillance of antimicrobial resistance for local and global action" will be hosted in Stockholm by the Swedish Ministry of Health and Social Affairs, the Public Health Agency of Sweden, and WHO.
Meeting participants—from every region of the world—are expected to agree on mechanisms for early implementation of a system to improve surveillance of resistance to antibiotics, as a first step to establishing a global surveillance program on antimicrobial resistance.
The meeting follows the publication of WHO's first global report on antimicrobial resistance, with a particular focus on antibiotic resistance, on 30 April 2014. Agreements reached at the Stockholm meeting will support the development of a draft global action plan on antimicrobial resistance that will be presented at the WHO Executive Board in January 2015.