Vazquez and Mujica disputing the leadership of Uruguay's ruling Broad Front
Saturday, November 29th 2014 - 07:45 UTC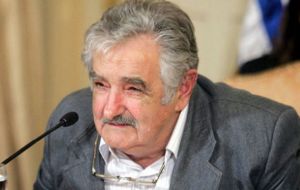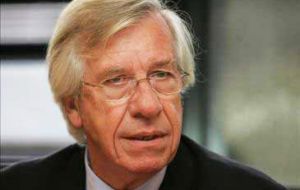 On Sunday Uruguayan voters will confirm in a runoff the country's next president, which according to all forecasts will be Tabare Vazquez. An oncologist by training, former president (2005/2009) and former mayor of the City of Montevideo, Vazquez and the Broad Front coalition was just less than three percentage points short of the needed 50% in the first round on October 26.
His challenger conservative Luis Lacalle Pou managed 30.9% in the first round and is expected to climb another ten points on Sunday, not near enough to dispute and prevent a third consecutive government of the catch-all ruling coalition, an arch that extends from former guerrillas, communists and Trotskyites to Socialists and Christian Democrats.
Vazquez's victory will then also confirm for a third consecutive time the coalition's majority in parliament, with 50 out of 99 benches in the Lower House and 16 out of 31 in the Senate. Under the Uruguayan constitution, the elected vice-president, in this case if Vazquez wins, Raul Sendic will be president of the Upper House and thus mark the 16th member out of 31Senators.
But having a legislative majority, in politics, does not mean an easy ride for any government, since the challenges erupt from inside that majority as has happened with the ruling coalition, besides the fact that in Uruguay's case the Broad Front can be said has two and a half relevant leaders, all in their late seventies. Current populist president Jose Mujica, Tabare Vazquez and Danilo Astori, an orthodox economist by training and currently vice-president and who has been confirmed as Finance minister by Vazquez if the coalition wins on Sunday.
Furthermore, it is clear now that a last minute intervention of popular president Mujica and the good performance of the Uruguayan economy, in the last three weeks of first round October's campaign (and probably treading grey areas of the Uruguayan constitution which limits presidential campaigning) enabled the ruling coalition to obtain almost 17 percentage points difference over Lacalle Pou.
But Mujica's push also had another side: that the different groupings in the coalition which took him as head of the Senate list and his wife and First Lady Lucia Topolansky in the second place, enables him to control nine or ten of the 16 Senators of the majority.
Likewise in the Lower House half of the ruling majority 50 members respond to Mujica and Lucia. This performance is no match for the other one and a half leadership, Vazquez and Astori, who lost ground compared to the 2009 election results.
In other words Vazquez if he wins, will be the president, but the legislative will be under the control of Mujica, and their chemistry is not that good.
In effect, Mujica likes to play on the difference between Vazquez, a university graduate, and himself a man of the street, no tertiary education and as a failed guerrilla spent fifteen years in jail. Likewise in 2009, then president Vazquez sponsored Astori as his successor but in the primaries was defeated by Mujica (another university man), who was finally elected in the runoff.
During these last five years Vazquez and Mujica have openly clashed several times, the latest when the candidate teased about the idea of selling cannabis in pharmacy shops, a project strongly supported by the president. During the campaign also, Vazquez said he would not tolerate divisions in his future cabinet as having two finance teams.
Mujica immediately and openly replied saying there was never nothing like two financial teams in his government and probably the most intriguing: Vazquez recently celebrated with his wife their golden jubilee and it's not yet clear why President Mujica did not attend, or was not invited.
The truth is that in 2013 vice-president Astori admitted the conflicting situation, Finance and central bank loyal to him, and the Budget office and Development corporation aligned behind Mujica. The situation led to the almost resignation of the finance minister (Fernando Lorenzo) fed up with what he considered interferences in his field. The matter was solved by suspending large cabinet meetings and marking the different fields of action.
Mujica all along has also been very critical of the Socialist party from where Vazquez joined politics. "They've become an employment agency; they are only interested in promising jobs in government in exchange for votes".
Another stumbling block will inevitably be the political appointees. As Mujica leaves so will his rank and file to be replaced by Vazquez' team, and given the authoritarian character of the most probable next Uruguayan president, no mercy can be expected towards the current president's men.
So it can be said that the current runoff competition, which has had a minimum interest from the Uruguayan electorate, which is particularly militant when it comes to voting, is a full effort from Vazquez and his team to come off with a victory of over fifteen points against Lacalle Pou, to demonstrate that he is as good a campaigner, has voters support and in reality was "not dependent on Mujica's campaigning in the first round". In other words a personal challenge to gain the widest possible public opinion support inside and outside the ruling coalition.
But the story does not end on Sunday. Next May in the nineteen electoral circuits (departments or counties) in which Uruguay is divided, elections will take place to name mayors and local councils. In the October 26 first presidential round and legislative ballot, the ruling coalition won in all districts, which does not necessarily mean it will happen in May, but what is most certain is that Mujica and his allies will want to ensure dominion over the City of Montevideo and neighboring Canelones which hold almost two thirds of Uruguay's population.
If the strategy works, and Mujica and his allies ensure those two strongholds, Vazquez influence could be further weakened. And so could his Finance minister Astori orthodox approach to economic policy. And as Mujica replied when he was asked why he had not joined Vazquez and his allies in celebrating first round victory in October: "Vazquez is celebrating with his friends. He knows I have also been loyal to the Broad Front all my life, and he knows that whenever he needs me, he knows where to find me, (in my farm)".
This scenario will also lay the foundations for the succession of the two and a half leaders of the fifteen-year successful Broad Front coalition, all of them in their late seventies and in the eighties when 2019 comes.