Vazquez pledges to work with the opposition in Uruguay's main challenges
Monday, December 1st 2014 - 08:36 UTC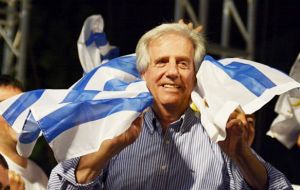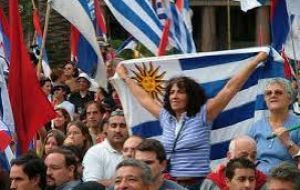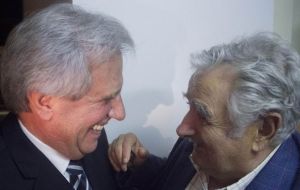 An hour after voting booths were closed on Sunday, and when exit polls confirmed former Uruguayan president Tabare Vazquez had been elected by a wide margin as the next leader of the country, Luis Lacalle Pou rang the winner to congratulate him and wish him the best for the country.
Exit polls on Sunday's runoff showed Vazquez and his vice-president candidate Raul Sendic had been supported by 53 to 54% of votes cast while Lacalle Pou was in the low forties, 41/42%. With such a difference and following on the result from the first round, 26 October, with a 17 points difference (47.8% to 30.9%) there was not much more to consider.
Despite the rainy and windy day over 85% of Uruguay's registered voters cast ballots, compared to 91% in the first round.
This makes Vazquez the third president in Uruguayan history to be twice elected president (there is no re-election in the country). The first was Jose Batlle y Ordóñez, the founder of modern Uruguay a century ago; Julio Maria Sanguinetti, the first elected president following 11 years of dictatorship in 1984, who repeated ten years later, 1994/1999 and now Vazquez, candidate of the catch all coalition Broad Front first elected in 2004/2009 and now 2014/2019.
However and despite the fact that the runoff difference was the largest since the two rounds system (with a month's difference) was imposed in Uruguay, results are indicative of some changes in the Uruguayan electorate.
To start with despite an original primary and electoral campaign, Lacalle Pou (41) did not manage to collect all the opposition in the run-off: actually he was two to four point short. Vazquez on the other hand managed to climb approximately six points, meaning the opposition was divided, some crossed and voted for him. In the same tune the percentage of blank and annulled votes was double the historic record, in the range of 5.5%.
The victory of Vazquez means the catch all coalition that extends from former guerrillas (as president Jose Mujica), Trotskyites, communists to Socialists, Social democrats and Christian democrats will enjoy a third consecutive presidential mandate, completing 15 years by 2019. It will also enjoy for a third five year term running, a legislative majority, although this does not mean differences could arise.
Exit polls also confirmed the coalition's overwhelming support in the main electoral circuit, the capital Montevideo with almost 58% of the vote, where it has been ruling since 1989.
And although Vazquez was a clear winner, it's not as rotund inside the coalition since his direct legislative support has diminished: his Socialist party came in fourth in votes; his great ally and orthodox economist Danilo Astori (currently vice-president and next Finance minister) lost a third of his seats in parliament, while outgoing popular president Jose Mujica confirmed his majority both in the Senate and Lower House. And Vazquez (and Astori) and Mujica don't necessarily see things in the same way in all issues.
Likewise contrary to ten years ago when Vazquez took office for the first time, and he received a country with finances in order, and later enjoyed the strong global tail wind with commodities prices soaring, all indicates that now it won't be that easy. The tail wind has turned into a slight summer breeze, commodity prices have dropped, the cycle of negative interest rates is forecasted to conclude during the first year of Vazquez' term and the budget deficit, despite ten years of sustained growth, even manicured stands at 3.2% of GDP, while inflation remains the third highest in South America behind Venezuela and Argentina.
In his brief victory speech to a huge crowd that gathered to celebrate Vazquez pledged a 'government of understandings and accords' (with the opposition) because "we don't have to think so much about the next elections but think about the new generations".
He promised not to work on his own but rather without ignoring nobody and "reflecting majorities because that is the essence of democracy". He added that no matter political colors, "Uruguay it today's great winner, and the country is not the same as in 2005 or 2010, there are new demands, new possibilities, and it's not a race for chimeras but grappling with reality".
Vazquez then mentioned several areas from the country's agenda that need accords and mentioned: healthcare, education, housing, infrastructure, social protection, innovation, production and environment and decent jobs.
Among the many political figures that visited Vazquez to congratulate him was President Jose Mujica and First Lady Senator Lucia Topolansky, and most cabinet ministers. However there was some confusion since earlier in the day it had been announced that Mujica and his cabinet would receive the winning ticket at Government House, and this did not happen.
Nevertheless President Mujica anticipated a Monday cabinet meeting with a full agenda, with several significant issues including the fact Uruguay will be holding the chair of Unasur, an issue that will need the attendance of members of Vazquez transition team.
Vazquez also promised to announce his cabinet in the next week although two/three names have been confirmed: Astori, Economy minister; Eduardo Bonomi will continue as Interior minister (Home secretary) and Alvaro Garcia, head of Planning and Budget.