Falklands representatives attending BOT Joint Ministerial Council in London
Tuesday, December 2nd 2014 - 05:25 UTC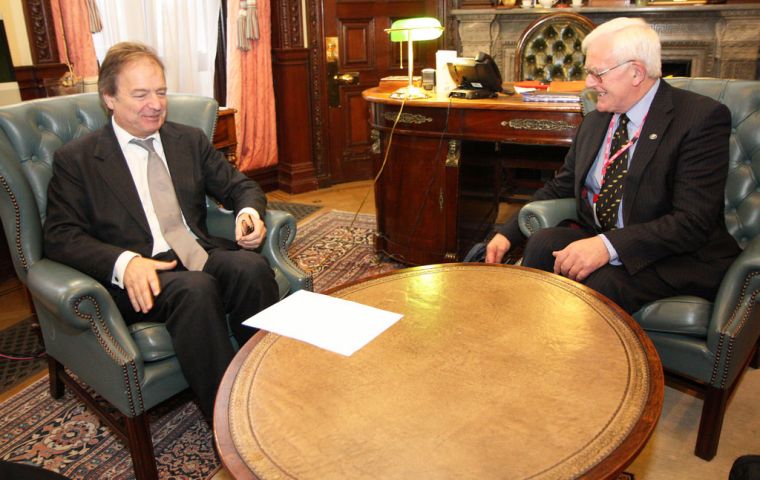 The annual Overseas Territories Joint Ministerial Council (JMC) which brings together political leaders from the Overseas Territories and UK ministers took off on Monday in London, hosted by FCO Minister for the Overseas Territories James Duddridge MP.
The Falkland Islands are attending the meeting with the Falklands Government Office in London representative, Sukey Cameron, MBE, and Member of the Legislative Assembly, MLA Roger Edwards who on Monday met with Foreign Office minister Hugo Swire.
The FCO minister has visited the Falklands and closely monitors events in the Islands, particularly regarding development of the economy.
The JMC is described as the principle forum for reviewing and implementing the shared strategy for promoting the security and good governance of the British Overseas Territories and their sustainable economic and social development.
On Monday morning the Political council of the UK Overseas Territories also held a meeting in anticipation of the exchange with different British ministers. The UKOTA this year is celebrating the twentieth anniversary of the association and the presidency is held by Gibraltar.
The meeting, which was attended by about fifty delegates, comprised representatives of Anguilla, Ascension, Bermuda, British Virgin Islands, Cayman, Falkland Islands, Gibraltar, Montserrat, Pitcairn, St Helena, Tristan Da Cunha and Turks and Caicos. This meeting served to coordinate views between the Overseas Territories Government's and to prepare the ground for the meeting with UK Ministers.
The Joint Ministerial Council between the OT Governments and the United Kingdom formally opens on Tuesday and will extend until 4 December.