US wants to continue with president-elect Vazquez the "vibrant relationship" developed with Mujica
Tuesday, December 2nd 2014 - 05:02 UTC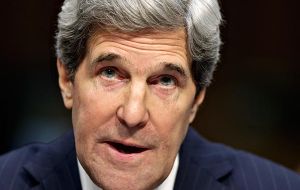 Secretary of State John Kerry congratulated on Monday Uruguayan president-elect Tabare Vazquez on his Sunday victory, and said that the US looks forward to working with the new administration and to continue advancing with the "vibrant relationship we have had" under the leadership of President Jose Mujica.
"We congratulate the Uruguayan people and electoral officials on a peaceful and orderly election. We look forward to working with President-elect Vazquez and his administration to advance our bilateral relationship. We are grateful for the vibrant relationship we have had with Uruguay under the leadership of President Mujica and congratulate him on winning a seat in the Senate".
"The United States and Uruguay share a long history of successful partnership, anchored by a commitment to democracy and the rule of law, peace and citizen security, respect for human rights, social inclusion, and economic opportunity for all. Our longstanding cooperation and commitment to Uruguay and the Uruguayan people will continue to thrive with the next administration" concludes the message from Secretary of State Kerry.
Likewise the Organization of American States, OAS, Secretary General José Miguel Insulza congratulated President-elect Tabare Vazquez, and wished him success in his new administration.
The OAS leader expressed his satisfaction at the high level of the political debate during the campaign, which he said "is clear proof of the constructive mood of the two competing political forces, in a country with one of the most established party systems in the Hemisphere."
Secretary General Insulza emphasized the calm displayed during the process and the high turnout despite the heavy rains that hit the country on Sunday, and called the early acceptance of the results by the opposition "another example of the consolidation of Uruguayan democracy."
Similarly, the OAS leader welcomed the words of the winning candidate, who said he would build a government of agreements, and noted that with this "the President-elect reaffirms the value of dialogue as a means of political and social conciliation".
President elect Vazquez, 74, and an oncologist by training on Sunday's runoff was re-elected for a second non consecutive mandate, (the first was 2004/2009; immediate reelection in Uruguay in banned), with one of the largest differences in recent times.
Vazquez leads the catch-all coalition Broad Front, with an arch extending from former urban guerrillas, Trotskyites and Communists to Socialists, Social democrats and Christina democrats. This is the third consecutive win of the coalition on the three occasions with legislative majority.
His challenger was Luis Lacalle Pou, 41, from the leading opposition National party. The strong situation of the Uruguayan economy and outgoing charismatic president Jose Mujica's popularity were decisive in the two- round election.