Pacific Alliance integrated stock markets, MILA, begins operations from Mexico
Thursday, December 4th 2014 - 04:54 UTC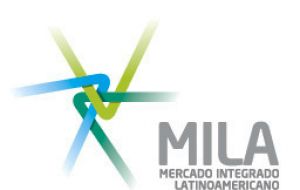 Mexico's stock exchange on Tuesday carried out its first operation as a member of the Latin American Integrated Market, or MILA, which connects it to bourses in Chile, Colombia and Peru, MILA said in a statement. The four countries are members of the Pacific Alliance an open market, pro business and foreign investment group created in 2012.
MILA said the transaction was the purchase by Mexican brokerage Grupo Bursatil Mexicano (GBM) of 200 shares in Chile-based retailer Falabella for some 1,415 dollars.
MILA was formed in 2011 to boost market liquidity within the Pacific Alliance trade grouping, and the tie-up aims to create more business for financial markets in the region.
The Pacific Alliance economic bloc that includes MILA's members represents about 35% of Latin America's gross domestic product and over half of its exports.
According to Mexico's stock exchange (BMV) the joint value of the four markets is over a trillion dollars, quite distant from the 19 trillion of the New York stock exchange but in ragne of Brazil's Bovespa, the largest in Latin America.
With the incorporation of Mexico, MILA now includes 136 Mexican corporations totaling over 780 in the four countries" pointed out a release from MILA.
According to the World Federation of Exchanges, WFE, "MILA is the first market by listed companies in Latin America and the first in market capital size".
"The interesting thing is that with MILA which offers a regional integration concept, it does not cease to distinguish the countries that make it up, in such a way that portfolios can combine regional investments in these countries and at the same time, private investors can do so in each of the markets that make it up" pointed out Pedro Zorrilla co-director of corporate affairs from BMV.