Falklands interested in training oil industry manpower with support from Trinidad and Tobago
Friday, December 5th 2014 - 07:01 UTC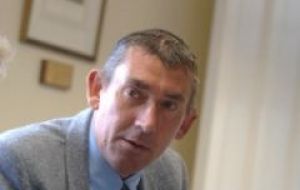 Four senior oil industry business and training executives are in the Falkland Islands promoting Trinidad and Tobago's oil industry training services. Preparing staff for the oil industry is crucial if benefits are to be injected to the local economy in the form of jobs and knowhow.
T&T is one of the wealthiest countries in the Caribbean with the economy strongly influenced by its petroleum industry which has been operating since 1940.
Members of the delegation explained that T&T's emphasis has long been on adding value to the product within their country. While that approach will not be the way forward for the Falklands (with the decision to keep the industry offshore) the Caribbean country's experience in adding value to personnel through training is something that the Falklands could learn from.
Lance Dowrich who developed the Quality Management System for the Kenson School of Production Technology said Trinidad and Tobago has a national structure of oil industry training.
This training structure can take a person entering the industry at craft level, through technical qualifications and on to university level training.
Trinidad has a very large workforce with internationally recognized qualifications working all over the world, in the North Sea, the Middle East and Africa and Mr Dowrich said it was very pleasant to hear "country manager of Premier Oil say he studied and worked under a Trinidadian in the North Sea."
Blair Ferguson who has over 20 years experience in the oil and gas industry and is Director of four companies including the Kenson School of Production and Technology, said that similar to other countries in the embryonic stage of oil and gas, one of the challenges the Falklands faces is manpower resources.
The training of local people explained the executives, would enhance the local economy in that Falklands companies would be able to compete with what was on offer to the industry from international companies.
Mr. Dowrich added that he commended FIG on their decision to undertake a training needs analysis. As such decisions would not be based on a, "whimsical approach," but be "data driven."
He said FIG had a, "clear vision," with regard to training.
They felt the Kenson School might in the future be a resource of use to Islanders wishing to train in the industry.
Managing Director of the HHSL Safety Systems Limited, a former Bristows pilot, also spoke of the importance of health and safety in an environment as pristine as the Falkland Islands.
Speaking generally about whether or not FIG was prepared for oil, Mr. Blair said the most important thing at this point was that the Government knew what it wanted. He said he felt they were, "on the right track," in that the environment had to come first.
He commented that his country had been in the oil industry for over 140 years and in those early years caring about the environment, "never came first," but had only come into play in the last 30 years.
He said taking into account that the speed at which the industry would move was based on factors outside of FIG's control, such as the price of oil, "you are as ready as you should be."
The group were in the Islands at the invitation of MLA Ian Hansen who has made a number of trips to Trinidad over the past 18 months. (Penguin News).-