'Guantanamo inmates will be out in Montevideo streets after medical checkups'
Tuesday, December 9th 2014 - 07:44 UTC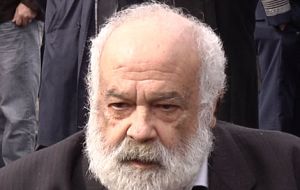 "Once the medical checkups are over they'll be out of the Military Hospital and walking in the streets of Montevideo as any other refugee or immigrant" said Uruguayan Defense minister Eleuterio Fernadez Huidobro on Monday in reference to the Guantanamo inmates that arrived on Sunday morning.
"At the most they will be another day; it's up to the doctors; I believe the fellow who had been on a hunger strike is eating again, weak but recovering. Yes, they will have psychological support because of the years of isolation and kidnap conditions they come from and obviously some kind of escort until they manage the language and local customs" added Fernandez Huidobro.
Military hospital sources said the six inmates were in 'good' condition: no anemia or symptoms of poor nutrition, or any respiratory problems which were what Uruguayan medical staff believed could be the case. The same sources said that the six inmates walked off the aircraft that brought them from Cuba.
Fernandez Huidobro denied any of the detainees had any dangerous background or had been involved in any terrorist action of any kind: "they simply were at the wrong place at the wrong moment".
"The US government, the CIA, FBI and the US Army have guaranteed us they are not responsible for any action, they are not conspirators, or have been involved in violent actions. The Americans have known this since 2009, so in no way will they be treated as such. To Uruguay they arrive as immigrants, as my parents did, after arriving they were given their local papers and started their lives", added Fernandez Huidobro.
The minister explained that after the fight against Al Qaeda began, "the Americans would pay 50.000 dollars for any suspect. Imagine, quite a few made a lot of money catching whoever they came across as long as they were Arabs and had beards; and these guys were caught this way. Luckily they are now free after having been kidnapped for so many years".
"And by the way, let's not imagine what happened to those who were effectively culprits or found guilty...who knows where they are..or whatever happened to them; don't ask, only imagine we're talking of the US, the most powerful nation in the world"
Likewise Fernandez Huidobro added that the alleged "terrorist backgrounds" have a double purpose, 'to scare people, echoing what is being said by the opposition, and because there is a clear indication of racism, that Arabs and Islam is bad, which obviously is nonsense; you can't blame the majority of the Arab people and religion for what is happening".
The minister said the Uruguayan government motive has been humanitarian, "to help these guys out of that kidnap nest, help these fellows remake their lives: if they want they can leave now, if they want to stay and bring their families, they are welcome, this is the tradition of this country which is made of immigrants, no matter from where you come".
The Minister added that Uruguay's refugee and asylum traditions are parallel to the country's foreign policy, not only of this government but the ones that preceded us: Uruguay is present in Sinai, as part of the Camp David agreements; in Kashmir as observers; in Africa operating as peace troops under UN, "and we were picked by all sides involved because we are serious, responsible and keep to the rule of the law".