Churchill sent troops to the Falklands in 1942 fearing a Japan-Argentina entente
Wednesday, December 10th 2014 - 07:33 UTC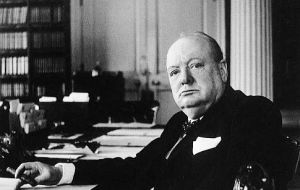 Winston Churchill dispatched 1,700 troops to the Falkland Islands in 1942 out of concern that the Japanese were planning to invade the territory and interfere with critical sea routes in the South Atlantic. In support of this plan Tokyo allegedly was prepared to hand control of the Falklands to Argentina, according to a piece in the Daily Telegraph, credited to Julian Ryall, from the Japanese capital.

Citing Kyodo News, and based on documents held at the UK's National Archives, the Telegraph says that Churchill realized the strategic importance of the Falklands to Britain's war effort after Japan's attack on US forces at Pearl Harbor on December 8, 1941.

Playing on Argentina's desire to reclaim the Islands, the Japanese ambassador to Buenos Aires had promised the government that Japan "would see that the Falklands are returned to Argentina," according to documents in the archive from Esmond Ovey, the British ambassador.

In a subsequent exchange dated December 26, the Admiralty had sent a coded message to the commander in chief of British forces in the South Atlantic warning that "The Japanese have given out that they will shortly be running a convoy to Argentina and that they will capture the Falkland Islands and present them to the Argentinians."

And in a message to senior defense officials in London dated April first, 1942, Churchill stated, "It would be a very serious thing to lose the Falkland Islands to the Japanese and no comfort to say that it would hurt the United States more than ourselves.

"The Falkland Islands are very well known and their loss would be a shock to the whole Empire," he wrote. "They would certainly have to be retaken."

Requests for assistance from Canada were turned down, while the United States ignored suggestions that it would be in Washington's best interests to garrison the Falklands.

Precisely to ensure that a seaborne invasion to recapture the Falklands, which Britain was ill-equipped to carry out in 1942, was not required, 1,700 men of the 11th battalion of the West Yorkshire Regiment were posted to the Islands.

"The object of the reinforcement would be to make it necessary for the Japanese to extend their attacking forces to a tangible size," Churchill wrote. "This might well act as a deterrent".

However the Japanese threat to the Falklands failed to materialize and, by late 1944, the troops had been dispatched to different theatres of the world war two conflict.

Nevertheless the UK government convinced of the strategic value of the Falklands, in 1944, from the Islands, organized Operation Tabarin to ensure British bases in Antarctic territory fearing again Japan and/or Germany's advances. The bases and summer stations with time evolved into one of the top Antarctic research organizations, the British Antarctic Survey, of BAS.