New US ambassador in Argentina sworn in at White House ceremony
Friday, December 12th 2014 - 05:50 UTC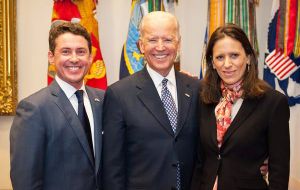 Noah Mamet has sworn as new United States ambassador to Argentina during a ceremony held in the White House, together with US vice president Joseph Biden and Argentine ambassador to the US Cecilia Nahon.
Mamet will replace Vilma Martinez, who ended her term on 4 July 2013. Business attaché Kevin Sullivan has been filling the position since.
Noah Bryson Mamet is 43 years old, a veteran Democratic fund-raiser and consultant. He collaborated with Obama's 2012 campaign, as well as with former US president Bill Clinton and former Secretary of State Hillary Clinton.
He is also president of Noah Mamet & Associates, a consulting firm that focuses on business and politics in Los Angeles, California, a member of the Pacific Council of International Politics, and of the United States Council of Young Political Leaders.
His nomination by US President Barack Obama was confirmed on December 2 by the US Senate, after much delay because several members of Congress believed he did not have the necessary qualifications for the post, besides the fact he had never visited Argentina or speaks Spanish.