RIO GAMES 2016 Mascots named after girl from Ipanema Musicians
Wednesday, December 17th 2014 - 02:52 UTC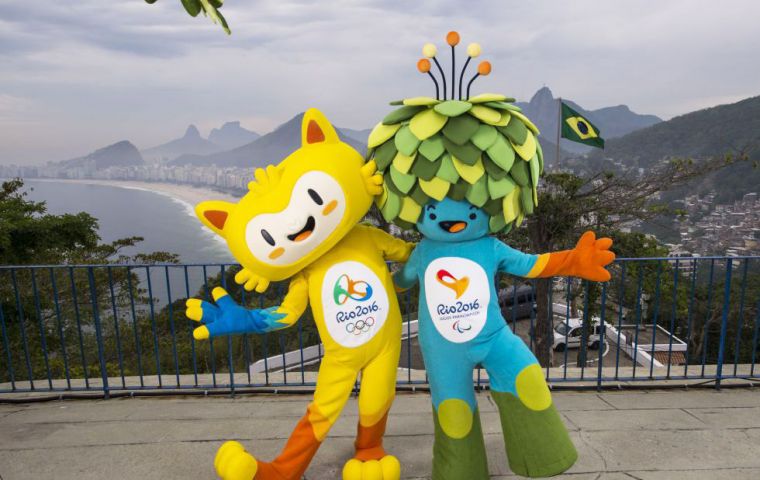 "Vinicius" De Moraes and Antonio Carlos "Tom" Jobim extend bossa nova influence to Olympìc and Paralympic Games symbols respectively.
The mascot for the 2016 Summer Olympic Games in Rio de Janeiro has been named "Vinicius" and that of the ensuing Paralympic Games at the same venue shall be "Tom", after the singer-songwriters Vinicius De Moraes and Antonio Carlos "Tom" Jobim, who co-wrote 'The Girl from Ipanema', organisers said.
The pair were instrumental in the development of bossa nova music and wrote dozens of songs together, most famously the tale of a young girl who passed their bar each day as she walked to Ipanema beach.
The announcement was made exactly 600 days before the commencement of the games, the first ever to be held in South America.
The Rio 2016 committee offered three pairs of names choices for the mascots, and it said "Vinicius" and "Tom" came out victors with 44 percent of the nearly 320,000 votes garnered at a TV show.
Vinicius is a yellow cat-like creature that represents Brazil's fauna, and Tom is a bushy-headed figure reminiscent of the country's diverse flora.
Since January 5, 1999, Rio de Janeiro's main international airport, better known as Galeao, also bears the name of Antonio Carlos Jobim.
"The names of Vinicius and Tom are recognised worldwide as a synonym for excellence, which is in line with what we want to achieve with the Rio 2016 Games," said Carlos Arthur Nuzman, chairman of the Organising Committee for the Rio 2016 Olympic and Paralympic Games. "In addition to representing the Brazilian fauna and flora, our mascots also connect to the best of our music. We are certain that they will be an inspiration to the youth," he added.
In related news, scientific tests in Rio have shown waters where sailing and windsurfing events are due to be held in 2016 to have bacteria highly resistant to conventional antibiotics, which requires unusual drugs and even hospitalization. Rio 2016 organisers made no comments on the subject.