Holdout funds, Malvinas: Mercosur presidents back Argentina
Thursday, December 18th 2014 - 04:45 UTC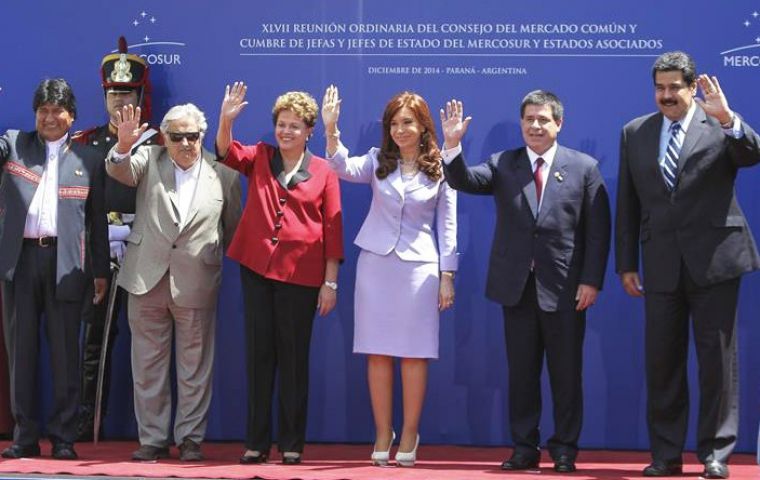 Full support also expressed for Venezuela against sanctions from the administration of United States President Barack Obama.
The documents are particularly strong in support of Argentina as it stands up to "a small group of holders of non-restructured sovereign debt bonds and express the bloc's most absolute rejection of these holdout funds, whose deeds hinder the achievement of final agreements between debstors and creditors and jeopardises the financial stability of countries."
With reference to the Malvinas/Falkland Islands dispute between Argentina and the United Kingdom, the heads of state of full and associate members of Mercosur issued a communiqué reiterating their permanent support to the legitimate interests of the Republic of Argentina in the sovereignty dispute relative to the Malvinas (Falkland) Islands and recalled Resolution 31/49 by the General Assembly of the United Nations which urges both Argentina and the United Kingdom to refrain from taking decisions which entailed the introduction of unilateral modifications to the situation of the islands for as long as said islands are going through the proceedings recommended by the General Assembly.
The presidents also repeated their rejection to the unilateral British activities which include, among other, the exploration of natural resources, both renewable and non renewable, of the area subject to controversy.
They also acknowledged Argentina's right to undertake legal actions with full respect for the International Law and for the Resolutions pertaining to unauthorised exploration and exploitation of hydrocarbon [derivatives] in its continental platform.
The presidents underlined recent declarations by the Latin American Organisation of Energy (OLADE), the Latin American Integration Association (ALADI), the Group of 77 and China in that regard and reaffirmed their commitment to exchange in accordance with the International Law, with the international treaties currently enforceable and with their internal legislation every piece of information available about: a) ships with courses which include the Malvinas (Falkland), South Georgia and South Sandwich Islands bearing cargo destined to illegal hydrocarbon and mining activities on Argentina's continental platform, and b) the banning the entry into their ports of any vessel hoisting the illegal flag of the Falkland Islands.
Another special communiqué expresses the support and congratulations to the president of Ecuador for the use of clean energy technology and for its innovative projects to fight climate change.