Mujica's role in US-Cuba understanding praised worldwide
Thursday, December 18th 2014 - 19:58 UTC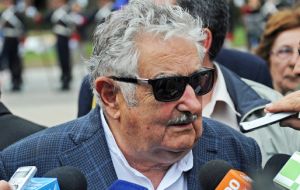 The role played by Uruguay's President in the process which led to Wednesday's announcements that the United States and Cuba are to restore full diplomatic ties, was praised by Presidents Barack Obama, Raul Castro and international analysts.
Uruguay President Jose Mujica's was quoted as saying that "we didn't go around about what we thought, we told it to the president of the United States in Cartagena and also when we payed him a visit [in Washington] and also to Raul Castro when we explained that we were open to giving asylum to the Guantanamo prisoners". Mujica admitted that he did his bit, but he does not want to be misinterpreted. "We won't be saying that the United States bowed to our request; we have a clear perception of our proportions", he explained.
Mujica's involvement as a mediator started over a year ago in Havana, moved on to Washington and became instrumental at the G77 Summit in Santa Cruz de la Sierra, Bolivia. After his meeting with the President of the United States in Washington, he is said to have brought Castro a personal message from Obama in the sense that he was willing to reach an agreement with Cuba.
The Uruguayan weekly Busqueda recalled on Thursday that Mujica had anticipated ten days ago that there were going to be new developments in the US-Cuba entanglement, after talks with Castro, for which the Obama administration was particularly thankful, according to US government sources quoted by the publication. "[Mujica] has a relationship and a level of respect towards the Cubans which we need to assume that one can trust [the other] and that we were working in good faith."
Mujica was heavily criticised for his decision to bring in the Guantanamo Bay detainees. He was accused of doing a favour to Obama, which wasvisibly in contrast with his usual anti-imperialist stance, but as the Al Jazeera network points out under the headline "From Guantanamo to Montevideo and on to Havana" Mujica went on with his plan "not only to boost his international reputation as a humanitarian, but also to attract Washington's attention on another issue: Cuba's continuing isolation."
The same article also explains that "Pepe" has the aspiration, before ceding power to Tabare Vazquez at the beginning of 2015, to spread his humanitarian legacy and reinforce his world reputation" and that "[t]hrough the well-publicised gesture, Mujica aims to give hope to all those disenchanted people who still think that idealism and ethics in politics are still possible."
There is definitely a new geopolitical scenario in the region, one of a heterogeneous regional political bloc which is able to come to terms with ideological differences, as the case of the ongoing peace talks between FARC and the Colombian government in Cuba, with the participation of Chile and Venezuela would seem to indicate.