FCO moves forward with changes to birth and death registration overseas
Monday, December 22nd 2014 - 22:06 UTC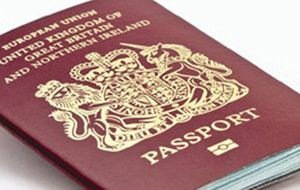 Phase four, which includes Argentina, Brazil, Chile, Ecuador and Venezuela to start on January 14
Phase four of the transfer to the UK, of overseas birth and death registrations of British Citizens will begin on 14 January 2015, the Foreign and Commonwealth Office announced.
The FCO is changing the way that it registers the birth and death of British Citizens overseas. Registration at British Consulates overseas are being gradually withdrawn throughout 2014 and early 2015. Registrations will be carried out instead in a central registration unit in the UK.
In June 2014, the FCO repatriated 26 countries and territories, in September, 33 countries and territories and earlier this month a further 83 countries and territories were repatriated. On 14 January 2015, we will repatriate a further 42 countries and aim to complete the transfer of remaining countries in one further phase in the first half of 2015.
This latest transfer of services will affect all applications from the following countries or territories:
Albania, Argentina, Austria, Bahrain, Barbados, Brazil, Cameroon, Chile, Cyprus, Czech Rep, Ecuador, Egypt, Georgia, Ghana, Guatemala, Hungary, Israel, Jordan, Kazakhstan, Kuwait, Lithuania, Mauritius, Mexico, Morocco, Namibia, Oman, Panama, Peru, Poland, Qatar, Romania, Saudi Arabia, Senegal, Slovakia, The Occupied Palestinian Territories, Tanzania, Trinidad and Tobago, Tunisia, Turkey, Ukraine, Venezuela and Zambia.
There are no changes to the entitlement to register a birth or death. The processing time will remain the same but customers will need to allow extra time for documents to be sent to and from the UK.
Customers will find information here on how to apply for a consular birth or death registration.
Consular birth registration is an optional service and is only available to those born overseas who have an automatic entitlement to British Nationality at birth. There is no legal requirement for a consular birth registration and a local birth certificate with a certified translation if necessary should be sufficient for all purposes in the UK including applying for a passport. Similarly there is no requirement for a consular death certificate – the local certificate should be sufficient for winding up the affairs and obtaining probate in the UK.
Centralisation of consular birth and death registration into a single-purpose unit in the UK will allow the FCO to provide a common online application procedure with credit card payment facility, which will be more efficient and convenient for customers. Centralisation will also help FCO staff overseas give greater focus to their primary function of assisting British nationals in distress.