Nicaragua: civic organisations want protesters freed, 'Chinese invaders' out
Friday, December 26th 2014 - 07:30 UTC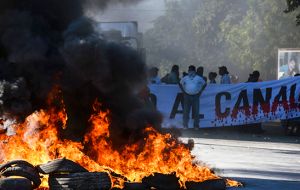 Expropriation law upsets peasants, environmentalists. 30 arrested nationwide. President Daniel Ortega dubbed a 'traitor'.
A coalition of civic and political organisations Thursday demanded the release of 30 people arrested during protests against Nicaragua's planned inter-oceanic canal. The protesters want the repeal of the law authorising the project and the expulsion of "the Chinese invaders," a reference to executives and employees of the Hong Kong-based lead contractor, HKND Group.
Police said they arrested a total of 30 peasants when they dismantled protest camps located at two different sites. The confrontations left 16 police officers and five canal opponents injured, authorities said.
The peasants, many of whom showed signs calling President Danuiel Ortega "a traitor", are unhappy with a provision of the canal's expropriation law that effectively compels residents along the route to sell their land at whatever price HKND offers. The $50 billion project officially got under way on Monday despite widespread opposition spurred by the government's failure even to conduct studies of the canal's potential impact on the environment and on the affected communities.
The waterway is to wind 278 kilometers (173 miles) from the Pacific coastal town of Brito to the mouth of the Punta Gorda River on Nicaragua's Atlantic shore. A significant portion of the canal route – 105 kilometers – runs through Lake Nicaragua.
The infrastructure is to include two deep-water ports, an airport, an artificial lake, two sets of locks, a tourist complex, a free-trade zone, roads, and cement and steel factories, according to the Hong Kong-based HKND Group, which expects to complete work in 2019.