Salta deputy brings his guitar to the Falklands to 'unite people through music'
Monday, December 29th 2014 - 06:49 UTC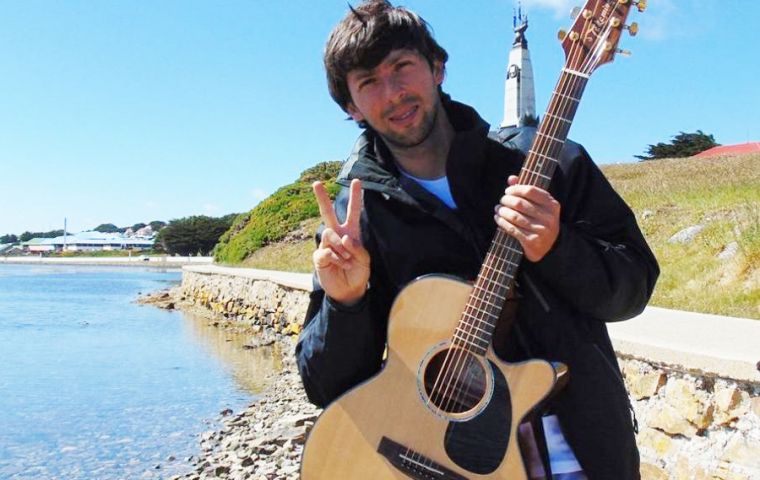 Argentine and Anglo-saxon rock music should break down barriers. Local member of Legislative Assembly calls for 'no unruly behaviour'
Salta provincial deputy Emanuel Sierra arrived Saturday in the Falkland/Malvinas Islands, where he plans to call for an understanding between Argentina and Great Britain through music. Sierra brought along his guitar and intends to play at public places singing Argentine and Anglosaxon rock music, because I think music unites [people] and transcends ideological and territorial borders," Sierra was quoted by La Gaceta of Salta as saying.
"Cover your ears as his campaign to 'recover the Falklands' begins New Year's night apparently," said Gavin Short, a serving member of the Legislative Assembly of the Falkland Islands in his Facebook account. Sierra had planned to fly on the 17th of December but was stranded at Punta Arenas because he did not have a hotel reservation at his destination.
Short was ironical - "No mention of the Falkland Islanders in all this - just UK and Argentina. Maybe he is going to spend his two weeks camped out under the Governors window serenading him."
But he warned: "By all means give him a rendition of some rousing songs if you come across him trying to sing (or even a John Denver tune if you want to go for something decent), express your views truthfully and clearly if you speak to him but we are more intelligent/thoughtful/civilised than those who live across the way so lets not even think of any unruly behaviour as that immediately puts you on the wrong side of the law and would play into the amigos hands."
Commenting on the controversial Top Gear episode in Patagonia, Short said to his online followers "Having watched Top Gear, I once again thank someones God for every inch of South Atlantic that separates us from the mainland. It's basically what we in the Falklands already knew of their temperament but at least now the world will get to see as well." Still, he added: "All that said, spare a thought and have sympathy for the decent, honest, thinking and hard working Argentines who support our rights to self determination, who have to share a country with those lunatics."