Brazil: Dilma facing new challenges for her second term in office
Tuesday, December 30th 2014 - 09:49 UTC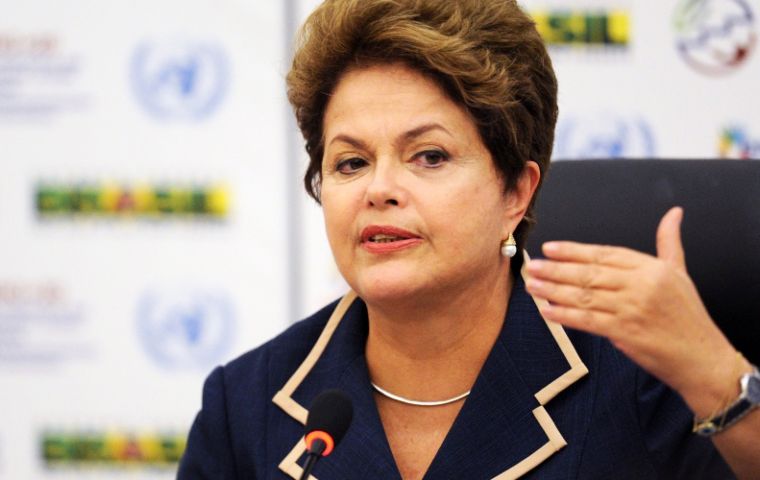 Analysts agree fiscal austerity and economic growth will be among the new government's priorities.
Dilma Rousseff will begin her second term as president of Brazil on January 1 with the challenge to sell her ideas and positions to a country that has grown weary of her party's 12 years in control. She must also address growing international doubt, as 61 percent of investors and market analysts are pessimistic and just 11 percent are optimistic, according to a recent Bloomberg poll. Her administration also needs a strong plan for the global stage. Here are three global challenges Brazil will face in Rousseff's second term.
Since Rousseff's reelection, the Brazilian Real has fallen significantly against the U.S. Dollar and the economy is still struggling, despite the record low unemployment. Rousseff's administration will need to address the stagnant economic growth quickly, which is currently making investors and companies anxious about the short term.
There are also the Petrobras Scandal and the 2016 Olympics: Allegations of kickbacks to political candidates, government involvement and corruption are just a few of the challenges facing Brazil's largest company and one of the largest energy companies in the world. And while the football World Cup ended this year, Brazil will be hosting another event on the world stage in 2016: the Summer Olympics. With that intense focus comes significant media coverage and attention from around the globe. The story emerging from the country is yet to be determined, but whatever it is, it will certainly be under scrutiny.
All of these challenges have a significant impact on the business community here in Brazil, especially with global companies doing business within Brazil's borders. One of the criticisms Rousseff received from her opponents during the election was her administration's lack of adaptation to the global economy. Selling Brazil to global stakeholders needs to be a critical priority in the second term of Rousseff's administration.
In 2010, when her predecessor Luiz Inacio Lula da Silva stepped down, Brazil's economic growth rate was 7.5 percent. But after Rousseff took office, the country's Gross Domestic Product (GDP) increased by only 2.7 percent in 2011, 1 percent in 2012 and 2.3 percent in 2013.
Meanwhile, the inflation rate has been higher than expected since 2010. A recent report from the Central Bank said economists of main financial institutions have elevated this year's inflation expectations for the fourth consecutive week, from 6.32 percent to 6.45 percent, approaching the government's official target for inflation.
Market analysts are more pessimistic about Brazil's economic performance in the next four years than they were when Lula won the 2002 election. In 2002, financial markets forecast the economy would increase by 3.5 percent, while this time, the economy is expected to grow by only 2.3 percent.
While the influence of a global downturn is believed to be a contributing factor of the recession of the largest economy in Latin America, more should be focused on internal causes.
Rousseff said the government would continue ensuring high levels of employment and the recovery of wages, curbing inflation and fulfilling responsibility in the fiscal field. "We will give more impetus to economic activity in all sectors, particularly in the industrial sector," she said. "I want a partnership of all segments, sectors, productive and financial areas, and this task is a responsibility of each of us. We will continue fighting inflation and fulfilling our responsibility in the fiscal field," she added.
Rousseff also pledged to carry out political reform, crack down on corruption and end impunity with stricter legislation.
Analysts say improving public services and investing more on education, innovation, research and development are issues the new government needs to consider in the next four years.