Guantanamo refugee wants to leave Uruguay
Tuesday, December 30th 2014 - 07:29 UTC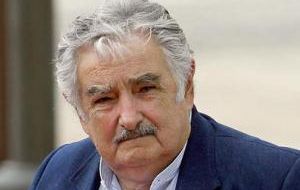 Reports indicate he would prefer to go back to his Palestine parents, who are too old to move to South America.
Former Guantanamo Bay detainee Mohammed Tahamatan is said to want to go back to his country. The Palestine refugee wishes to travel to his homeland to meet his parents, who are unable to travel and settle in South America due to their age, it was reported.
Uruguayan President Mujica denied there was a minimum stay before any of the six former inmates his country received from the United States on December 8 were eligible to resettle wherever they wanted. "They're totally free to go," Mujica was quoted as saying. "We're nobody's jailer."
Fernando Gambera, a spokesman for the PIT-CNT labour union which has agreed to house the six refugees, expressed his confidence that once that the men have started working they will gradually blend into the Uruguayan culture.
Two of them have reportedly been offered positions as builders to commence in January. All of the former prisoners are talking Spanish lessons to ease their way into their new environment.
The six men -one Palestinian (Tahamatan), one Tunisian and four Syrians- had been detained as suspected militants with ties to al-Qaeda in 2002 but were never charged. Cleared for release since 2009, they could not be sent home and the US had struggled since then to find countries willing to take them.