Ushuaia expects 22.000 cruise visitors during January, says local tourist office
Wednesday, December 31st 2014 - 02:44 UTC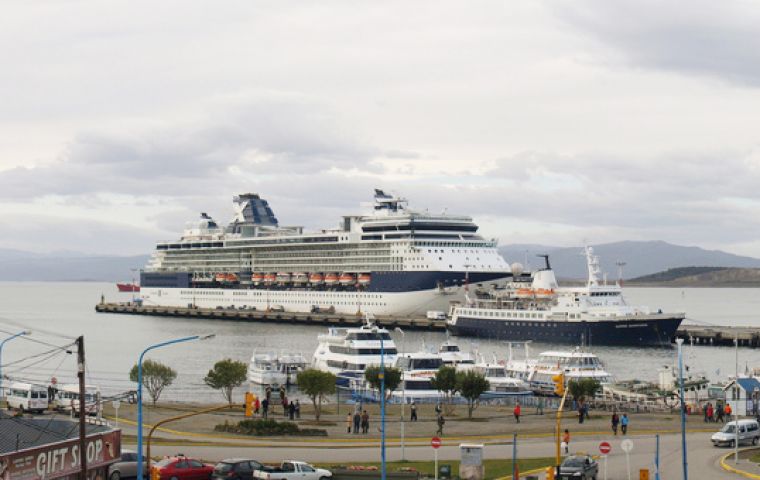 Ushuaia, in the extreme south of Argentina is expecting 22.000 cruise visitors during the month of January to which must be added to the 17.000 that already landed in Tierra del Fuego since the current 2014/2015 season officially opened last September, according to the provincial Tourist office.
Among the major cruise vessels scheduled to again visit Ushuaia are Celebrity Infinity with 2.449 passengers and Golden Princess, 2.600 passengers, which will be calling on January 12 and January 24 . Ocean Dream with 1.350 visitors is expected on 14 January and Dutch flagged Zaanadam on 23 January with 1.805 passengers.
Other vessels that have been calling at Ushuaia include Via Australis, Ocean Diamond, Silver Shadow, Hanseatic and Seabourn Quest, and during Christmas week, the Golden Princess and Celebrity Infinity with over 5.000 passengers.
Ushuaia given its privileged geographic position is considered by the cruise industry as the natural gate to Antarctica, which normally extends from late October to the end of March. Following just over two days of sailing from Ushuaia the vessels reach the Antarctica peninsula where passengers can enjoy the magnificent sights of the frozen continent.
In related news the Tierra del Fuego tourist office revealed the results of a hotel occupancy survey during September and October which showed that most land tourists come from Buenos Aires City, 37.1%; Buenos Aires province, 15.3% and Tierra del Fuego, 5.6%. As to foreign land tourists, 14.8% are from Brazil, 5% from the United States and 1.6% from France.