Rockhopper awarded exploration licence with ENI, in Croatian Adriatic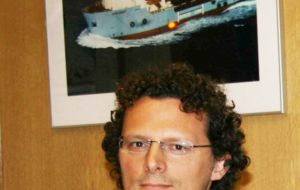 The British company Rockhopper Exploration, with interests in the Falkland Islands, has been awarded a licence to explore, together with Italy's Eni, a field for possible oil and gas exploitation in the central part of the Croatian Adriatic.
"This represents an outstanding low cost opportunity to increase our acreage position in an area with proven hydrocarbons," Rockhopper Exploration chief executive Sam Moody has told British media.
Rockhopper, which acquired Medoilgas last year, has been awarded a 40% share in the offshore block in Croatia in a partnership deal with Eni.
Rockhopper will take part in the exploration phase, consisting of seismic acquisition, processing and re-processing, expected to last three years. Drilling is expected in a possible second phase.
The company is now awaiting the outcome of its participation in a tender for oil and gas exploration in Montenegro.
Croatia's Economy Ministry and Hydrocarbon Authority on Friday granted 10 licenses for exploration and exploitation of hydrocarbons in the Adriatic to five companies - Marathon Oil, OMV, Eni, Medoilgas and Ina.
The investment in the exploration is estimated at 1.5bn dollars and exploration will last five years.
A consortium comprising the US Marathon Oil and Austria's OMV was awarded a licence to explore and exploit hydrocarbons in seven fields, a consortium comprising Eni and Medoilgas was awarded a licence for one field, and the Croatian company INA was awarded a licence for two fields.
Rockhopper is also operating the successful Sea Lion prospect to the north of the Falkland Islands.