Argentina shocked over the death of indigenous child of malnutrition and TB
Thursday, January 8th 2015 - 00:42 UTC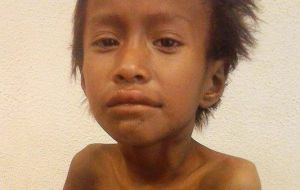 Argentina is in state of shock following the death of a seven-year old aborigine of malnutrition which turned into a complicated case of TB. The child belonged to the Qom indigenous community in Chaco, northern Argentina that has been forced to a life of deprivation and despair because on ongoing battles over the possession of reservation lands.
The Argentine government through its cabinet chief and spokesperson Jorge Capitanich expressed "deep consternation" over the death of Nestor Fermenia, but pointed out it was 'an isolated case' and that the pain "should not invalidate the achievements in health infrastructure and social inclusion".
The child had been hospitalized with a serious condition for almost forty days, suffering of malnutrition conditions, TB and immunity deficiency.
Fermenia was suffering from collagen disease, which associated with TB forced a health involution leading to a multi-organ failure and a pericardial effusion, which had to be treated by extracting liquids that threatened heart and lungs, according to Alicia Michelini, head of the Children's hospital in the capital of Chaco, Resistencia.
"We followed the WHO protocol for TB patients, but other risk factors linked to his social, family and environment background weigh as much in these kind of situations as in any chronic pathology", said Dr. Michelini.
"In the diagnosis of the child we found liver insufficiency and coagulation disorders, with constant production of liquid which makes us think he had some basic pathology or some immune disease, and opened the way for TB. But it is evident he had some basic disease condition which triggered the later complication".
Dr. Michelini said that TB was one of the oldest diseases in the world but despite treatments to eliminate it "in distant places or of poor social and education situation is where TB resistance pockets take refuge.
Pediatrician Walter Damian Vargas Gonzalez who looked after the child during forty days said that "we had built a special link with Nestor, we cared and looked after him, we shared forty days of his life. But his medical situation was associated to some form of immune disease that attacked his pleura, pericardium and liver, aggravating his condition".
But Nestor Nuñez coordinator of the Nelson Mandela Studies Centre which works with excluded groups and makes reports on social affairs, had warned about the situation and called for "urgent care' and made public the lack of government responsibility and the fact the child was malnourished.
"Besides the agony suffered by the child, his death will be part of the Argentine health system's black list, because it won't be recorded as a TB complication and severe malnutrition that marked his short life", argued Nuñez.
Nestor had been hospitalized several times: the first in September, he was diagnosed 10% nutrition deficit and lung TB. He was the eldest of five children and lived with his family in Qom lands, 315 kilometers from Resistencia, the capital of Chaco province. He had to peregrinate several clinics before reaching the Children's hospital in Resistencia, where he finally died.
In Buenos Aires and Argentina's main cities there was an outpour of indignation and criticism to the government over its indigenous peoples' policy, made worse by the statements from Capitanich.
The cabinet chief urged to "add context" on the case and insisted in the importance to "appreciate the achievements" and not to dismiss "the efforts" made in the province by the government.
"We have to fight against 50 years of indifference," Capitanich said in reference to Chaco province. "Unprecedented infrastructure investment has been made," he added.
The former Chaco governor went on to say that "there is no question on the drastic reduction of infant mortality, the improvements on the healthcare system" in the province. "The infant mortality has been drastically reduce from 20.9 per thousand to 10.2-10.8 per thousand in 2014," he specified.