Authorities raid Buenos Aires HSBC accused of aiding tax evasion
Thursday, January 8th 2015 - 01:08 UTC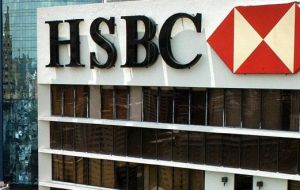 Authorities on Wednesday conducted a court-ordered search of the Argentine headquarters of London-based bank HSBC, which faces allegations of aiding tax evasion, it was reported in Buenos Aires.
The raid stems from allegations by Argentina's AFIP tax agency that HSBC helped 4,040 Argentines evade taxes by placing their money in secret Swiss bank accounts.
AFIP leveled the charges against HSBC in a federal court in November, saying its subsidiaries in Argentina, the United States and Geneva created "shell companies to take money out of the country and evade taxes."
The list of Argentine citizens or residents with accounts at HSBC's Geneva branch, obtained thanks to whistle-blowing former HSBC systems engineer Herve Falciani, was handed over to Argentine tax authorities last September by the French government.
Authorities earlier raided HSBC's Argentine headquarters last August as part of a separate tax-evasion and money-laundering probe.
The action on Wednesday was ordered by Judge María Verónica Straccia.
HSBC later confirmed in a statement that it handed over "the documents that were available to judicial authorities, and additional request are being processed.
"We are committed to Argentina, one of our priority markets, and we will continue to contribute to the country's economic development," the missive said.
The AFIP office conducted by Ricardo Echegaray has estimated 3 billion dollars of taxes have been evaded due to the financial hideouts, in a legal proceeding involving renowned Argentine business tycoons, lawmakers, sport stars and big leading companies.