Argentina suspends HSBC from transferring money abroad for 30 days
Tuesday, January 13th 2015 - 08:31 UTC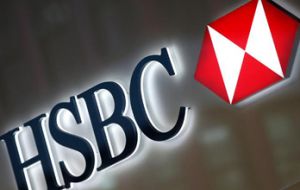 Argentina said on Monday it was suspending HSBC Bank Argentina's right to transfer money abroad for 30 days due to "irregularities", two months after charging it with helping clients evade taxes by siphoning their funds off to Switzerland.
HSBC Bank Argentina has failed to fulfill a pledge to fix the irregularities in credit transfers, the Argentine central bank said in an emailed statement.
"The central bank of Argentina has decided to temporarily suspend HSBC Bank Argentina's operations of transferring money and assets abroad for a period of 30 days, which could be reduced if the entity adopts the necessary corrective measures," it said.
Argentina last November charged HSBC with aiding more than 4,000 clients to evade taxes by stashing their money in secret Swiss bank accounts.
HSBC Argentina rejected those charges, saying it respected Argentine law.
Argentina's move came as part of a global crackdown on undeclared funds held in offshore havens, after the global financial crisis strained government budgets and made the need to maximize tax receipts more pressing.
In addition, Argentina's populist government favors strong intervention in the private sector and has publicly accused a host of major foreign companies such as global grains exporters Bunge and Cargill of evading taxes over the past few years.