Fidel sends letter to Maradona to quash rumors about his alleged death
Tuesday, January 13th 2015 - 07:20 UTC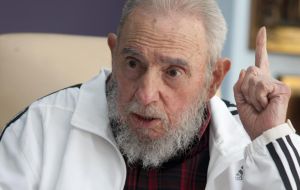 Fidel Castro has sent a letter to his friend and Argentine football great Diego Maradona, a Venezuelan-based TV network said, adding that the missive quashed rumors that the former Cuban leader might have died.
The elder Castro had not been heard from nor seen in public since his brother Raul's historic US-Cuba rapprochement last month, and the silence has re-ignited speculation about his health.
The Telesur station website posted a picture of Maradona, who had recently visited Cuba, reading a letter with the 88-year-old Castro's signature.
"The leader of the Cuban revolution, Fidel Castro, is alive and wrote a letter to the football star," Telesur said, before referring to the torrent of recent rumors on social media.
Chatter about his demise has dogged Castro periodically since the 1959 Cuban revolution, but became more frequent in recent years because of health problems that forced him to step down from power in favor of his younger brother.
The last public word from Fidel Castro was an Oct. 17 column in state media.
Set up to counterbalance Western-based TV networks like CNN and the BBC, Telesur is financed by populist governments in Latin America, Venezuela in particular.
Telesur said Fidel Castro's son, Alejandro, had confirmed to a radio station that "he is in good health," and blamed the origin of the rumors on the death of Fidel Castro Odinga, the son of a Kenyan politician.
The network did not publish the content of the letter to Maradona.