New Zealand navy detects three toothfish poachers red-handed in the Ross Sea
Wednesday, January 14th 2015 - 07:19 UTC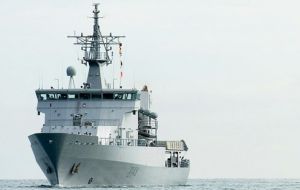 The New Zealand navy has discovered a third boat fishing illegally. The Foreign Ministry informed that the HMNZS Wellington caught another vessel, "Yongding", to the west of the Ross Sea, in Antarctic waters.
Although the vessel said it was not working together with the other two intercepted previously, the Kunlun and the Songhua, New Zealand authorities claim to have seen them operating alongside each other. The three ships claimed to be flagged to Equatorial Guinea.
"This strongly suggests they are part the same illegal fishing syndicate," NZ Foreign Minister Murray McCully said.
"In the past, two of these vessels have been linked to the Spanish-based syndicate, Vidal Armadores S.A.," he added.
NZ's government has requested permission to board the vessels but has so far had no response. Minister McCully further pointed out that the Spanish government has also been contacted, and that NZ requested that Interpol issued a Purple Notice for this latest vessel.
The Yongding, the same as the other two boats intercepted previously, had also been included by the Commission for the Conservation of Antarctic Marine Living Resources (CCAMLR) on an illegal fishing blacklist.
They were deploying their illegal activity in high seas using gillnets, in unlicensed defiance of regulations imposed by the CCAMLR, the New Zealand Herald informed.
The vessels were hauling up toothfish, a species known as "white gold" for its high price, which can fetch up to 70 dollars a kilo in top end restaurants.
According to Sea Shepherd's skipper, Peter Hammarstedt, "These vessels have been operating for over 10 years." He added that "iIf they are not arrested they will continue poaching this year and for many years to follow".
Hammarstedt stated that the Paloma V, now operating as the Songhua, has repeatedly stolen fish from marine wildlife showing no respect for the law.
HMNZS Wellington has gathered evidence in case it is needed if any legal action is taken against the offenders.
The Songhua, the Kunlun and the Yongding were not licensed to fish in the region and NZ navy officials had observed them over the past week using banned fishing methods such as gillnets.
A New Zealand Defense Force spokeswoman said the Ministry of Foreign Affairs and Trade (Mfat) was the lead agency involved in the operation. (FIS/MP).-