Paris killings deepen Islam controversy in Germany with rallies in several cities
Wednesday, January 14th 2015 - 07:30 UTC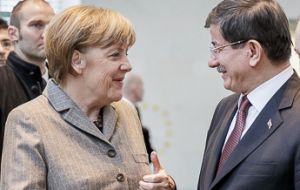 Thousands of Germans turned out for an anti-Islam rally on Monday in Dresden, where some protesters wore black ribbons to show their solidarity with the 17 victims of last week's terror attacks in Paris.
The weekly anti-Islam rallies started last October and are being organized by a group called the Patriotic Europeans against the Islamization of the West, or PEGIDA.
Dresden police said they couldn't yet give exact numbers for Monday night's rally at press time, but last week's drew 18,000 people.
One of the organizers of the Dresden rally, Lutz Bachmann, told the crowds that "the terrible acts (that took place in) Paris are further proof that PEGIDA is needed."
Some demonstrators held up placards with the names of the French journalists killed by Islamic militants in Paris. Others sported banners condemning the "lying press" that they claimed misrepresents their cause. One poster showed Chancellor Angela Merkel wearing a headscarf.
Earlier in the day, Merkel had made an appeal to citizens not to join the protests, declaring at a press conference that Islam "belongs to Germany" — a clear repudiation of the protesters. Last year, Merkel said the rallies were being organized by people with "hatred in their hearts."
A day after walking arm-in-arm with French President François Hollande at the front of a massive march in Paris to honor the victims of killings by Islamic militants, Merkel received the Turkish prime minister and urged dialogue among religions.
The conservative chancellor pointed to comments made by former German president Christian Wulff, who said in 2010 that Islam was part of Germany — a comment that triggered a fierce debate at the time.
"Former president Wulff said Islam belongs to Germany. That is true. I also hold this opinion," Merkel said at a press conference with Turkish Prime Minister Ahmet Davutoglu, who also took part with other world leaders in the Paris march on Sunday.
Merkel said her government was doing everything it could to ensure migrants were being successfully integrated into German society regardless of their religion. Nearly two in three of the four million Muslims in Germany are of Turkish origin, roughly half are German citizens. But Merkel acknowledged the need for better dialogue between religions, praising Muslims for publicly rejecting the use of violence after the Paris killings and calling Turkey an ally in the fight against terrorism.
In other cities across Germany, those attending counter protests urging that immigrants be welcomed and treated fairly far outnumbered the anti-Islam demonstrators.
Berlin police said 4,000 people demonstrated against an anti-Islam rally of 400 protesters. In Munich 20,000 people took to the streets to support tolerance and only 1,500 anti-Islam protesters showed up.
Leipzig police estimated that 15,000 counter protesters had rallied, in contrast to many fewer anti-Islam demonstrators.
The Dresden marches in the last few months have drawn heavily from rural areas near the borders with Poland and the Czech Republic. Many insist they aren't racist — just ordinary people worried about crime — though skinheads and far-right activists have been visible among the crowd.