In a surprise move Swiss central bank abandons Euro peg: frank soars 30%
Friday, January 16th 2015 - 06:15 UTC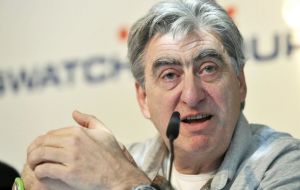 The Swiss franc soared as much as 30% in chaotic trade after the central bank abandoned the cap on the currency's value against the Euro. The Swiss National Bank (SNB) said the cap, introduced in September 2011, was no longer justified. It also cut a key interest rate from -0.25% to -0.75%, raising the amount investors pay to hold Swiss deposits.
The International Monetary Fund's head, Christine Lagarde, called the move "a bit of a surprise".
Following the SNB move the Euro went from buying 1.20 francs to buying just 0.8052, but it later recovered to buy 1.04.
Swiss shares closed down 9% and stock markets around Europe fell with investors buying "safe haven" assets such as gold and German bonds.
Many investors believe that with the franc so strong Swiss companies will struggle to maintain export levels.
Watchmaker Swatch saw its share price slump 15%. Swatch chief executive Nick Hayek called the decision "a tsunami" for Switzerland's economy.
Mark Haefele, chief investment officer of Swiss bank UBS, estimated that the move would cost Swiss exporters close to 5bn Swiss francs, equivalent to 0.7% of Swiss economic output. One trader described trading after the unexpected announcement as "carnage".
While the Swiss franc was held at 1.20 to the Euro it had tracked the Euro's fall against the dollar and many believe the Euro will fall even further if the European Central Bank (ECB) starts quantitative easing, buying bonds to push cash into the Euro zone banking system to stimulate a recovery.
Keeping the franc at 1.20 to the euro had became increasingly expensive for the SNB as it sold its own currency and bought up Euros, sterling, US and Canadian dollars and yen, usually in the form of government bonds.
SNB foreign currency reserves have more than doubled since the cap was started in 2011 making it one of the five largest holders of foreign reserves in the world.