Falklands resident and South Georgia Marine Officer awarded Polar Medals
Saturday, January 17th 2015 - 08:36 UTC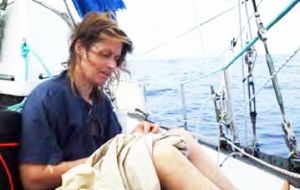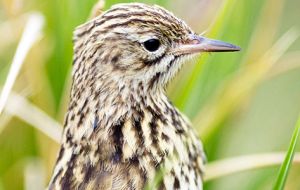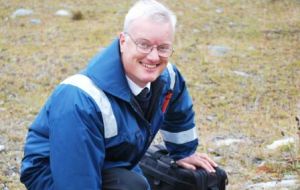 Environmentalist, renowned sailor and Falklands resident Sally Poncet has joined an elite group of only eight women to have been awarded the prestigious Polar Medal this year. South Georgia Marine Officer Patrick Lurcock has also received the honor.
The medal is awarded to UK citizens for conspicuous contributions to the knowledge of Polar regions or who have rendered prolonged service of outstanding quality in support of acquisition of such knowledge.
Mrs. Poncet has been involved in exploration and research on South Georgia for more than 35 years. She first visited South Georgia with Jerome Poncet on Damien II in 1977 and later explored and researched Antarctica with their young sons.
Chief Executive and Director of SG Fisheries Martin Collins said: "Since then Sally has dedicated much of her time to studying and promoting the island's biodiversity and has worked on surveys of plants and seabirds, undertook the first rat eradication trial in 2002 and co-authored two editions of the South Georgia Visitor's Guide (with Kim Crosbie)".
Sally has been a key adviser to the SGHT rat eradication project and the GSGSSI reindeer eradication.
This week Mrs. Poncet made the exciting discovery of the first South Georgia Pipit nest at Schlieper Bay on South Georgia, an area cleared of rodents in 2013 when she worked as lead scientist on the restoration project.
Mr. Lurcock wintered at the Halley Base with the British Antarctic Survey in the late 1980s. For the last 20 years he has worked on South Georgia as a Marine Officer or Government Officer in the employ of Government of South Georgia and South Sandwich Islands (GSGSSI).
The Government Officers are GSGSSI's representatives on the ground in South Georgia and are the primary interface with fishing and tourism industries and with military and civilian visitors.
Mr. Collins said: "During the time Pat has been employed by GSGSSI he has played an integral role in the improvements in fisheries and environmental management. Pat has also spent considerable time researching and documenting the cultural heritage of South Georgia."
Mr. Lurcock told Penguin News it was a great honor to be awarded the Polar Medal and he was thrilled, adding, "though I feel a bit of a queue jumper as Sally Poncet is receiving a much more deserved one this year too."
He said: "I have been lucky to have been here on South Georgia over a period that has developed in so many positive ways in terms of ecological, heritage, fishery and tourism management, and to have been able to play a small part in it all over the past 20 years. None of which I could have done without the wonderful support of Sarah, who luckily loves being here as much as I do and has made my small contribution possible."
He joked: "I am not quite sure why having an office with a view of snow-capped mountains in the distance, a beach full of seals and penguins in the foreground, ships full of interesting people to board and meet, clean air to breathe, pure water to drink, and a great team to live and work with, deserves a medal, but I will accept it anyway."
In 1904, the Polar Medal was inaugurated for members of Captain Scott's first expedition to Antarctica. It was also awarded to the crews of both rescue ships, the Terra Nova and the Morning.
Subsequent medals were also awarded to members of Ernest Shackleton's expeditions in 1907–09 and 1914–17.
Virginia Frances 'Ginny' Lady Twisleton-Wykeham-Fiennes noted explorer and wife of adventurer Ranulph Fiennes was the first woman to be awarded the Polar Medal.
The medal may be conferred on those citizens of the United Kingdom of Great Britain and Northern Ireland who have personally, made conspicuous contributions to the knowledge of Polar regions (including South Georgia) or who have rendered prolonged service of outstanding quality in support of acquisition of such knowledge and who, in either case, have undergone the hazards and rigors imposed by the Polar environment.
The medal may also be awarded in recognition of individual service of outstanding quality in support of the objectives of Polar expeditions, due account being taken of the difficulties overcome.