Petrobras CEO confirmed in the job by the Energy minister
Saturday, January 17th 2015 - 08:00 UTC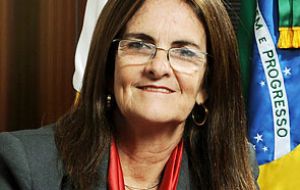 Brazil's energy minister this week threw his support behind the CEO of Petrobras, the embattled state-run oil company embroiled in a vast corruption scandal that has dominated national headlines. Maria das Graças Silva Foster will keep her job as CEO, the minister said, despite growing demands for her resignation.
"I believe she is the right person because she is competent, and few others know the Petrobras system," said Eduardo Braga, Brazil's minister of mines and energy, in an interview with television network Globo Thursday evening.
Foster had been a top executive at Petrobras since 2006 and became CEO in 2012. Last year the company became the center of allegations that executives had colluded with construction and engineering firms to bump up the value of projects, with kickbacks paid to dozens of politicians as part of the scheme.
The scandal, which allegedly occurred in the years before Foster became CEO, became a top issue in the October presidential election that eventually led to a narrow win for incumbent Dilma Rousseff. Foster has denied any involvement or knowledge of the deals, and Braga defended her position on Thursday.
"There is no evidence that can even insinuate any kind of involvement from [Foster] in the wrongdoing that occurred," he told Globo. He added that Petrobras would regain its credibility with increasingly transparent governance and more technically sound management. Foster said last year that she had offered her resignation but President Rousseff refused to accept it.