Petrobras corruption scheme could reach 28bn dollars according to police
Saturday, January 17th 2015 - 07:49 UTC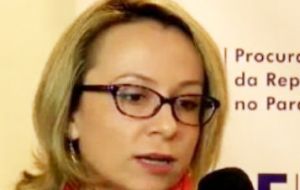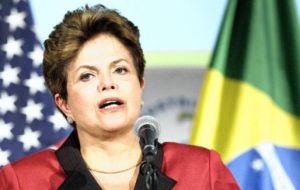 The corruption scheme in Brazil's leading corporation Petrobras could exceed 28 billion dollars, making it the largest corruption scandal that the country has ever seen. The development was reported through an interview by Reuters of Brazilian police officer, Erika Marena, investigating the corruption probe.
According to the investigations, there is a possibility that the corruption scandal involves foreign companies and 750 additional infrastructure contracts. Ms. Marena did not quote an exact number but only indicated that the number was most likely to be more than the 30 billion dollars of Banestado case.
If Ms. Marena's guess proves to be true then the Petrobras corruption probe could surpass the Banestado case.
The corruption probe showed that Petrobras executives normally inflated the value of contracts. The excess was alleged to be pocketed by local politicians from the ruling Workers Party of President Dilma Rousseff and her political mentor Lula da Silva, other allied coalition partners, plus former company executives.
Several executives of the company have been arrested so far by the Brazilian federal police, with the latest that of Nestor Cervero, a former company top executive.
Cervero was last month charged by prosecutors for profiting from Samsung heavy industries 'generosity'. In exchange Samsung allegedly secured contracts with the Brazilian oil major. Mr. Cervero has been accused by the investigators for being involved in continued corruption; however, his lawyer indicates that he is innocent and is not guilty.
The corruption has posted large problems for the Brazilian economy. President Dilma Rousseff was a member of the company's board from 2003 to 2010 faces a huge challenge ahead. Construction activities in the country are at a standstill following the corruption probe. In addition, investigations have extended globally with the intervention of the US Securities and Exchange Commission and the US Department of Justice.
The Brazilian bond market has made the worst possible start this year since 14 years and companies in Brazil are finding it difficult to raise more cash due to the corruption scandal surrounding the company. Petrobras since last year has lost 50% of its share value. The company's market capitalization is standing at 46 billion. The Brazilian state-run company has indicated that it will release its third-quarter earnings on January 27, and large write downs on the company's asset value are expected.
Ms. Marena mentioned that the police force is trying its best to ensure that justice is served and those involved in the money laundering scheme are caught as soon as possible. Much of the progress of the Brazilian police was due to the insights provided by Alberto Yousseff. The police believe that it would require cooperation from companies abroad. They also indicated that focus from the companies' executives would now shift to the local politicians in February.