Argentina confirms customs imports restrictions despite WTO ruling
Wednesday, January 21st 2015 - 07:05 UTC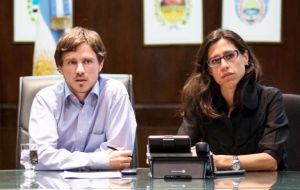 The administration of president Cristina Fernandez confirmed to Argentine business leaders that customs restrictions on imports will stay in place, despite strong international pressure for barriers to be lifted.
Internal Trade Secretary Augusto Costa and Foreign Trade deputy secretary Paula Español met on Wednesday with representatives of several business chambers, where the commitment to upholding commercial restrictions was made clear by the government officials.
According to an official statement, the audience aimed to "work on the alignments of foreign trade administration for the coming year," after Argentina lost a World Trade Organization (WTO) hearing for protectionism against the United States, European Union and Japan.
Argentina was ordered to remove customs regulations that obstruct trade with other countries, with the WTO upholding the complaints filed in 2012.
But Costa affirmed that "the current functioning logic of the system of trade administration" would be maintained, pointing out the "productive dialogue" with business sectors.