Primary forensic test delivers no gun powder traces on Nisman's hands
Wednesday, January 21st 2015 - 07:18 UTC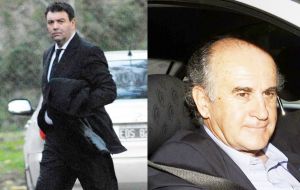 The forensic analysis on Argentina's AMIA special prosecutor Alberto Nisman's body confirmed that there were no traces of gunpowder on his hands. However, experts explained that it does not contradict suicide hypothesis.
Prosecutor Viviana Fein, who leads the investigation of Nisman's death, said on Tuesday this was not an "unexpected result" and that it "does not rule out the possibility that Nisman had fired the gun himself."
Fein had already confirmed that there was no sign of a third-party being involved in the death, but she had refused to rule out the possibility that the deceased was forced to take his own life by some as yet unknown factor. The event was catalogued as "suspicious death".
She explained that with .22 caliber fire arms, as the one used in Nisman's death, "usually do not deliver positive results" for gunpowder traces in forensic analysis.
"When the weapon is fired, since the quantity [of gunpowder] for an electronic sweep test is so small, the test could not give a positive result," Fein underlined. "The gun is not a weapon of war, it usually does not allow for an electronic sweep to show up as positive."
The investigator, with consent from judge Emma Palmaghini, subsequently ordered new studies on the .22 caliber pistol to be carried out. The gun will be fired by a different person whose hand will undergo the same test as Nisman's, to determine whether it leaves gunpowder residue.
"There are so many tests that can be ordered in this case, we must wait for blood studies found on the gun and on the scene to yield results," Fein added. She also gave some information on the Prosecutors' office employee who had lent the weapon to Nisman shortly before his death.
"He has worked there since 2007 specializing in information technology, a technical part of the prosecution unit, and he worked mostly on Nisman's requirements. He is a technician, a Computer Science graduate," she indicated.
"We have not taken any other weapon from doctor Nisman's home, nor from safes, drawers or any other places they could be appropriately stored. Right now no other weapon has been found or taken.
Prosecutor Fein also confirmed that on Nisman's desk where he was working for his Congress presentation on Monday, a note with a list of things and shopping for Monday was also found.
Meanwhile Federal judge Ariel Lijo has asked Argentina's Intelligence Secretariat (SI) chief Oscar Parrilli to give details over the identity of two alleged agents that were accused by late prosecutor Alberto Nisman of being part of the cover-up of the AMIA bombing.
Judicial sources informed that one of the agents in question is former judge and lawyer Luis Yrimia, who Nisman had called for questioning as part of his complaint filed last week.
Lijo wishes to know if Yrimia worked with the SI on the AMIA case alongside another, unnamed individual, said to be the contact between the government and Iran's confidant in Buenos Aires Jorge 'Yussuf' Khalil. The judge supplied Parrilli with the full names of the agents implicated, after the government ordered the declassification of their identity and actions.
Lijo is overseeing a case involving alleged irregularities and cover-up activities committed in the investigation into the 1994 AMIA bombing, with parts of the file already having reached the initial trial stages and with ex-president Carlos Menem standing as one of the accused.
Prosecutor Ramiro González, also working on the case brought forward by Nisman, also requested that the content of 19 discs, equivalent to the capacity of 900 CDs, of wiretap evidence gathered by the deceased as part of his accusation against President Cristina Fernández and other high-ranking figures be transcribed for use in the investigation.
In related news Nisman's ex wife and mother of the couple's daughters, Federal Judge Sandra Arroyo Salgado, arrived on Tuesday at prosecutor Viviana Fein's offices to give testimony in the investigation of the death of Nisman's death but declined to make comments to reporters.
"There is an ongoing investigation, let's allow the Judiciary to work," Arroyo Salgado said. "I cannot speculate."
The judge landed at Ezeiza airport earlier on Tuesday from Spain, interrupting the Judicial recess following the shocking death of her former husband.