US Ambassador Mamet presents credentials and meets with Timerman
Friday, January 23rd 2015 - 06:03 UTC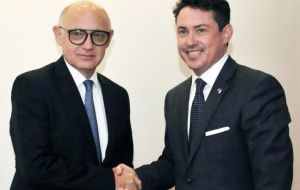 US ambassador to Argentina Noah B. Mamet held his first meeting with Foreign Minister Hector Timerman at the Foreign Ministry on Wednesday afternoon after he arrived in Buenos Aires on Friday of last week.
Mamet said he "felt honored to represent his country in Argentina" following his appointment by US President Barack Obama that he would dedicate himself towards strengthening their relationship and expanding cooperation between both countries.
Mamet after arriving last Friday on that same day submitted a copy of his credentials to the Foreign Ministry and later uploaded a two minute YouTube video informing the general public about his background.
Ambassador Mamet used the video to express greetings to Argentines in both Spanish and English, introducing himself and saying that he is looking forward to working with the Argentine government and people on energy, environmental protections, health issues, and "in particular, education exchanges" while also strengthening existing cooperation in technology and boosting bilateral trade and investment.
Although Obama first nominated Mamet as ambassador in August 2013, the US Senate was only formally notified in January of 2014 and finally approved in December following resistance from the senators.
Announcing his nomination back in 2013, Obama said "I am grateful that these impressive individuals have chosen to dedicate their talents to serving the American people at this important time for our country," Obama said as he announced Mamet's nomination, along with new ambassadors for several other countries, including the Philippines and Niger, among others. "I look forward to working with them in the months and years ahead."
The ambassador was criticized by senators Marco Rubio and Robert Menendez for his apparent lack of knowledge of Argentina and its diplomatic relations with the US, as well as not speaking Spanish. In the interim, Mamet has improved his Spanish and has become an avid reader of Argentine current affairs.
Mamet will replace former ambassador Vilma S. Martínez, who held the post until 2013. During that gap, the embassy's Chargé d'Affaires Kevin Sullivan acted as the head of the US mission.