State of the art polar vessel for BAS to be delivered in 2019
Monday, January 26th 2015 - 21:39 UTC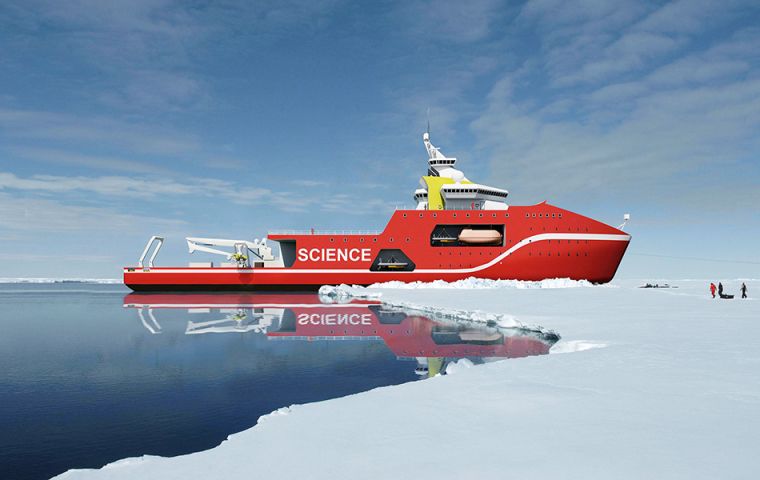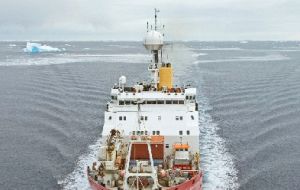 A new polar research vessel is currently being designed for the British Antarctic Survey (BAS). The new vessel will be an ice-capable, multi-role polar research and logistics ship which will be used to conduct science and to resupply the BAS stations such as the two in South Georgia, according to the latest South Georgia Newsletter.
A concept design for the new polar vessel, provided by Houlder Ltd naval architects, has been prepared. The ship's features will include the ability to carry helicopters and a scientific moon pool. It is expected to be built and ready for operation in late 2019. The new ship will replace both of the current BAS vessels RRS James Clark Ross (JCR) and RRS Ernest Shackleton.
The new vessel was announced by BAS parent organization the Natural Environment Research Council (NERC) in April 2014. They are now consulting with potential users to assist in the design phase to ensure that the vessel meets the current and future needs of the science community. Consulting is being conducted both online and at a meeting in London.
NERC have invited the UK and international marine and polar science user community to submit comments on the vessel's design. The London meeting will be a on January 15th to engage with the wider scientific community and encourage further participation and input into the vessel's overall design concept and operability.
Funding of more than £200 million has been earmarked for the new ship and associated enabling works at the UK's Antarctic research stations. According to the NERC website, "The state-of-the-art polar research vessel should ensure that UK polar scientists remain at the forefront of environmental research in both the Antarctic and the Arctic."