UN members agree on major policy for ocean and marine life protection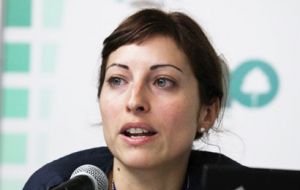 States took a major step toward urgently needed ocean protection at the United Nations over the weekend agreeing to develop a legally binding agreement to conserve marine life in the high seas. After four days of deliberations States reached consensus to begin negotiating the first UN treaty that specifically addresses the protection of marine life in an area covering half the planet – those ocean areas beyond national jurisdiction.
Progress came despite pressure from a small group of governments that questioned the need for a new legal framework. That minority blocked agreement on a faster timeline reflecting the clear scientific imperative for action, but all countries agreed on the need to act. Those countries which showed reluctance included United States, Russia, Canada, Iceland and Japan.
Karen Sack of The Pew Charitable Trusts said, "This is a big moment for the high seas. Countries from around the world sat down and agreed to negotiate a way forward and that's really good news for life in the global ocean."
Sofia Tsenikli of Greenpeace said "Today's agreement could go a long way in securing the protection the high seas desperately need. Countries now must respond to the overwhelming public demand for better ocean protection and develop an historic agreement for the oceans. Time is of the essence."
John Hocevar, Oceans Team Leader for Greenpeace US, said "This was a historic moment for the oceans, with the final agreement coming down in the wee hours of the morning. When the US joined with the majority, the last remaining holdouts followed along. Now that the international community has agreed to protect the high seas, hopefully they will pick up the pace and get this process moving before it is too late for our oceans."
Lisa Speer of the Natural Resource Defense Council said, "Many States have shown great efforts to protect the half of the planet that is the high seas. We know that these States will continue to champion the urgent need for more protection in the process before us."
Daniela Diz of WWF said "Today we have seen a decisive step forward for ocean conservation and can now look to a future in which we bring conservation for the benefit of all humankind to these vital global commons."
Mission Blue's Dr Sylvia Earle said "Armed with new knowledge, we are taking our first steps to safeguard the high seas and keep the world safe for our children."
The outcome of the meetings in New York will now have to be adopted by the UN General Assembly by September 2015. The High Seas Alliance will continue to press for a strong resolution by the UN General assembly for a new agreement under UNCLOS that will ensure a healthy global ocean for the long-term.