Falklands' oil drilling program confirmed; rig from Western Africa on its way
Tuesday, February 3rd 2015 - 00:10 UTC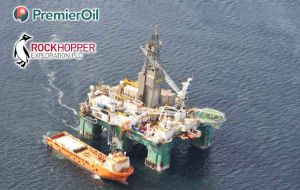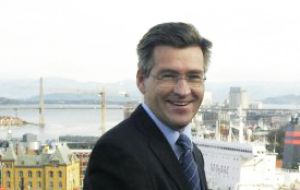 Falkland Oil and Gas Ltd has confirmed that the Eirik Raude rig has commenced mobilization from West Africa to the Falkland Islands for the 2015 drilling program, which will be operated by Premier Oil and Noble Energy.
FOGL says the drilling program will start in March on the Premier operated, Zebedee well which will test the southern lobe of the Sea Lion field. The Isobel Deep well, also located in the North Falklands Basin will be the second well in the program. FOGL says that order to reduce the cost of multiple rig moves around the Falkland Islands a slightly modified drilling order is now being considered:
1. Zebedee (FOGL 40.0%) North Falkland Basin, Licence PL004b
2. Isobel Deep (FOGL 40.0%) North Falkland Basin, Licence PL004a
3. Jayne East (FOGL 40.0%) North Falkland Basin, Licence PL004c
4. Non-FOGL well North Falkland Basin, Licence PL032
5. Humpback (FOGL 52.5%) South Falkland Basin, southern licence area
6. Second Noble operated well South or East Falkland Basin, to be decided.
Interpretation of the 3D seismic acquired over FOGL's South Falkland Basin licenses is progressing well, but given the range of new prospects identified, this work is still ongoing and will not be completed until the end of March 2015.
This work is now principally aimed at providing a shortlist of possible drilling targets for the second Noble operated well. Good progress has been made and the choice has been narrowed to three potential options, being: Stingray, Scharnhorst North or Starfish, according to the company.
Based on the operators' cost estimates, FOGL is funded for the four agreed wells. FOGL's funding commitment for the fifth well will be dependent on drilling location, FOGL's equity interest in the well and whether it is an exploration or appraisal well. As at 31 December 2014 FOGL has close to 100 million dollars of cash with no debt.
Chief executive Tim Bushell said: "Over the last 12 months we have worked hard to select the best prospects for drilling and have now, with our partners, put in place an exciting drilling program targeting over 1.4 billion barrels of gross un-risked prospective resources. FOGL has the largest acreage position of any explorer in the Falklands Islands and the biggest exposure to the upcoming drilling campaign, the results of which have the potential to be transformational for us."