Falkland Islands picture from 400 kilometers above the Earth
Wednesday, February 4th 2015 - 08:28 UTC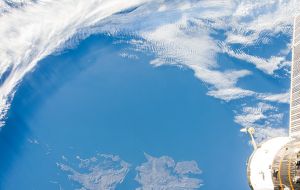 Russian cosmonaut Oleg Guermanovich Artemiev, member of the International Space Station Expedition 40 posted this week a high definition picture of the Falkland Islands taken while orbiting from 400 kilometers above the Earth.
Born in 1979 in Russian Latvia, Oleg was selected in 2003 to join a group of astronauts RKKE-15 in 2003. Before he had been a member of the Soviet Army stationed in Vilna, Lithuania. While training to become a cosmonaut, Oleg also participated in the Mars-500 program.
Oleg has his own blog where he writes about his experience in the ISS and posts pictures, such is the case of the Falkland Islands caught in a splendid clear day.
The Russian cosmonaut left in a Soyuz rocket from Baikonur, Kazakhstan in May 2014 and returned last November after spending 225 days in orbit.